12.02.2021 | Anaphylaxie | Literatur kompakt | Ausgabe 1/2021 Zur Zeit gratis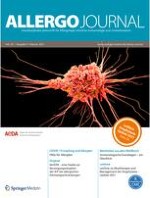 Leitlinie zu Akuttherapie und Management der Anaphylaxie - Update 2021
S2k-Leitlinie der Deutschen Gesellschaft für Allergologie und klinische Immunologie (DGAKI), des Ärzteverbands Deutscher Allergologen (AeDA), der Gesellschaft für Pädiatrische Allergologie und Umweltmedizin (GPA), der Deutschen Akademie für Allergologie und Umweltmedizin (DAAU), des Berufsverbands der Kinder- und Jugendärzte (BVKJ), der Gesellschaft für Neonatologie und Pädiatrische Intensivmedizin (GNPI), der Deutschen Dermatologischen Gesellschaft (DDG), der Österreichischen Gesellschaft für Allergologie und Immunologie (ÖGAI), der Schweizerischen Gesellschaft für Allergologie und Immunologie (SGAI), der Deutschen Gesellschaft für Anästhesiologie und Intensivmedizin (DGAI), der Deutschen Gesellschaft für Pharmakologie (DGP), der Deutschen Gesellschaft für Pneumologie und Beatmungsmedizin (DGP), der Patientenorganisation Deutscher Allergie- und Asthmabund (DAAB) und der Arbeitsgemeinschaft Anaphylaxie - Training und Edukation (AGATE)
Zeitschrift:
Autoren:

Prof. Dr. med. Dr. phil. Johannes Ring, Prof. Dr. med. Kirsten Beyer, Prof. Dr. med. Tilo Biedermann, Prof. Dr. med. Andreas Bircher, Matthias Fischer, Axel Heller, Isidor Huttegger, Prof. Dr. med. Thilo Jakob, Prof. Dr. med. Ludger Klimek, Matthias V. Kopp, Dipl. oec. troph. Claudia Kugler, Dr. med. Lars Lange, Prof. Dr. med. Oliver Pfaar, Priv.-Doz. Dr. med. Ernst Rietschel, Prof. Dr. med. Franziska Rueff, Sabine Schnadt, Roland Seifert, Britta Stöcker, Prof. Dr. med. Regina Treudler, Prof. Dr. med. Christian Vogelberg, Prof. Dr. med. Thomas Werfel, Prof. Dr. med. Margitta Worm, Helmut Sitter, Prof. Dr. med. Knut Brockow
zum Fragebogen im Kurs
Zitierweise: Ring J, Beyer K, Biedermann T, Bircher A, Fischer M, Fuchs T, Heller A, Hoffmann F, Hutegger I, Jakob T, Klimek L, Kopp MV, Kugler C, Lange L, Pfaar O, Rietschel E, Rueff F, Schnadt S, Sifert R, Stöcker B, Treudler R, Vogelberg C, Werfel T, Worm M, Sitter H, Brockow K. Guideline (S2k) on acute therapy and management of anaphylaxis: 2021 update. S2k-Guideline of the German Society for Allergology and Clinical Immunology (DGAKI), the Medical Association of German Allergologists (AeDA), the Society of Pediatric Allergy and Environmental Medicine (GPA), the German Academy of Allergology and Environmental Medicine (DAAU), the German Professional Association of Pediatricians (BVKJ), the Society for Neonatology and Paediatric Intensive Care (GNPI), the German Society of Dermatology (DDG), the Austrian Society for Allergology and Immunology (ÖGAI), the Swiss Society for Allergy and Immunology (SGAI), the German Society of Anaesthesiology and Intensive Care Medicine (DGAI), the German Society of Pharmacology (DGP), the German Respiratory Society (DGP), the patient organization German Allergy and Asthma Association (DAAB), the German Working Group of Anaphylaxis Training and Education (AGATE). Allergo J Int 2021;30:1-25 ...