01.12.2017 | Research | Ausgabe 1/2017 Open Access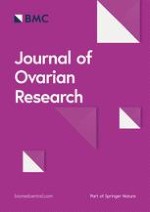 Anatomical organization and neural pathways of the ovarian plexus nerve in rats
Zeitschrift:
Autoren:

César F. Pastelín, Nora H. Rosas, Leticia Morales-Ledesma, Rosa Linares, Roberto Domínguez, Carolina Morán
Abstract
Background
In this work, a detailed anatomical description of the ovarian plexus nerve (OPN) in rats is presented. The distribution of the OPN was analyzed by gross anatomy; the features of the superior mesenteric ganglion (SMG) were determined by histological studies; and the localization of the postganglionic neurons innervating the ovary were identified with retrograde tracer.
We studied 19 adult cyclic rats of the CIIZ-V strain.
Results
We found that the right OPN originates from the celiac ganglion, the lumbar ganglion of the sympathetic trunk (LGST) and the SMG. The left OPN originates from the LGST and the anastomotic branch from the splanchnic nerve. The SMG was attached to the inferior vena cava containing sympathetic neurons that innervate the right ovary through the OPN, and which is anatomically single. When the tracer was injected into the right ovary, only the SMG showed positive neurons, while when the tracer was injected into the left ovary, labeled postganglionic neurons were observed in the LGST.
Conclusions
This is the first time that it is reported that the SMG is attached to the inferior vena cava and it is directly related to the right ovary. The neural pathways and sympathetic ganglia involved in the communication between the ovaries and the preganglionic neurons are different in the left and right side.