01.12.2014 | Experimental Research - Neurosurgical Anatomy | Ausgabe 12/2014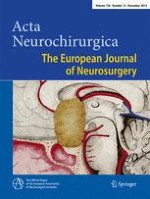 Anatomy of the spinal dorsal root entry zone: its clinical significance
Zeitschrift:
Autoren:

Özlem Kirazlı, Necati Tatarlı, Bülent Güçlü, Davut Ceylan, İbrahim Ziyal, Evren Keleş, Safiye Çavdar
Wichtige Hinweise
Presentation at a conference: Has been presented at the National Anatomy Congress on September 13, 2014. No Clinical Trial Registration number is required.
Abstract
Background
The posterolateral sulcus (PLS) is an important surgical landmark, especially for DREZ (dorsal root entry zone) operations.
Methods
The present study aimed to show the variations of the PLS using human spinal cord histological sections and report the variability in the number of dorsal rootlets of the spinal nerves in each the spinal cord segment. Further, measure the height and width of the dorsal horn on histological sections for cervical, thoracic, and lumbar levels.
Results
The results of the present study showed various patterns of PLS 1.clearly present PLS, 2. short PLS, 3. absent PLS or 4. irregular PLS. Height and width measurements of the dorsal horn showed that the average width was greatest at lower cervical (0.48 ± 0.04 mm) and least at lower thoracic levels (0.41 ± 0.04 mm), whereas the average height was greatest at upper cervical (3.0 ± 0.06 mm) and smallest at lower lumbar levels (1.8 ± 0.08 mm). The average number of rootlets varied considerably, at cervical level it was 7.6 ± 1.4 mm, at thoracic 6.6 ± 0.8 mm and at lumbar 6.1 ± 0.4 mm.
Conclusions
The detailed anatomy of the variations of the PLS and the average number of rootlets at each spinal level can increase the success of regional surgery. Further, fine measurements on histological sections can give detailed knowledge on the size necessary for lesioning in DREZ operations.