01.12.2012 | Research | Ausgabe 1/2012 Open Access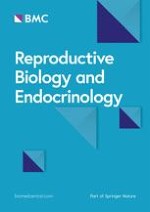 Androgen receptor-beta mRNA levels in different tissues in breeding and post-breeding male and female sticklebacks,
Gasterosteus aculeatus
Zeitschrift:
Autoren:

Erik Hoffmann, Anders Walstad, Johnny Karlsson, Per-Erik Olsson, Bertil Borg
Wichtige Hinweise
Electronic supplementary material
The online version of this article (doi:
10.​1186/​1477-7827-10-23
) contains supplementary material, which is available to authorized users.
Competing interests
The authors declare that they have no competing interests.
Authors' contributions
EH, BB, JK and P-EO designed the experiments and prepared the manuscript. EH and BB participated in the preparation of the animals and tissues. EH and AW performed RNA extraction, cDNA synthesis. EH performed the RIA, the real time quantitative PCR and the analysis of data. All authors have read and approved the final manuscript.
Abstract
Background
Androgens induce male characters by activating androgen receptors (AR). Previous quantitative studies on AR in fishes have been limited to few tissues and/or a single season/reproductive state. The aim of this investigation was to study the possible role of AR-beta expression levels in the control of male traits in the three-spined stickleback. To that end, AR-beta expression levels in major tissues in breeding and post-breeding male and female sticklebacks were examined.
Methods
AR-beta mRNA levels were quantified in ten tissues; eye, liver, axial muscle, heart, brain, intestine, ovary, testis, kidney and pectoral muscle in six breeding and post-breeding males and females using reverse transcription quantitative PCR.
Results
Breeding in contrast to post-breeding males built nests and showed secondary sexual characters (e.g. kidney hypertrophy) and elevated androgen levels. Post-breeding females had lower ovarian weights and testosterone levels than breeding females. AR-beta was expressed in all studied tissues in both sexes and reproductive states with the highest expression in the gonads and in the kidneys. The kidney is an androgen target organ in sticklebacks, from which breeding males produce the protein spiggin, which is used in nest-building. There was also high AR-beta expression in the intestine, an organ that appears to take over hyperosmo-regulation in fresh water when the kidney hypertrophies in mature males and largely loses this function. The only tissue that showed effects of sex or reproductive state on AR-beta mRNA levels was the kidneys, where post-breeding males displayed higher AR-beta mRNA levels than breeding males.
Conclusion
The results indicate that changes in AR-beta mRNA levels play no or little role in changes in androgen dependent traits in the male stickleback.