01.12.2017 | Research article | Ausgabe 1/2017 Open Access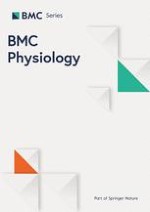 Androgen receptor is expressed in mouse cardiomyocytes at prenatal and early postnatal developmental stages
Zeitschrift:
Autoren:

Enrique Pedernera, María José Gómora, Iván Meneses, Marlon De Ita, Carmen Méndez
Abstract
Background
Previous studies show that androgens are involved in hypertrophy and excitability of cardiomyocytes and that their effects are mediated through their receptor. The aim of this study was to evaluate the presence of androgen receptor (AR) in mouse heart during prenatal and early postnatal stages.
Results
The expression of AR and related genes, alpha myosin heavy chain -Myh6-, beta myosin heavy chain -Myh7- and atrial natriuretic factor –Nppa- was simultaneously evaluated by semiquantitative RT-PCR. AR was also detected by immunohistochemistry. Androgen receptor mRNA was detected in hearts from 10.5 days post coitum to 16 postnatal days. A higher expression of AR mRNA in atria compared to ventricles was observed in neonatal mouse. A positive correlation between mRNA levels of AR and Nppa was observed in mouse heart at early postnatal development. Androgen receptor expression is similar in males and females during cardiac development. Finally, androgen receptor protein was observed by immunohistochemistry in myocardial cells of atria and ventricles from 12.5 days onwards and restricted after 16.5 days post-coitum to nuclei of cardiomyocytes.
Conclusion
Present results provide evidence that androgen receptor is expressed from prenatal stages in mouse heart, supporting the proposition that androgens could be involved in mammalian heart development.