24.10.2017 | Systemic Therapies (M Liu and T Haddad, Section Editors) | Ausgabe 4/2017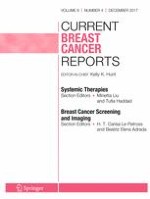 Androgen Receptor-Targeted Therapy for Breast Cancer
Zeitschrift:
Autoren:

Tomas G. Lyons, Tiffany A. Traina
Wichtige Hinweise
This article is part of the Topical Collection on
Systemic Therapies
Abstract
Purpose of Review
Emerging evidence has identified the androgen receptor (AR) pathway as a potential driver for breast cancer (BC) carcinogenesis. The prevalence of AR expression differs across breast cancer subtypes, and its prognostic role in BC is not clear. Triple-negative breast cancer (TNBC) is a heterogeneously diverse disease, which includes a subset that may be androgen driven. This review will discuss the role of AR across the differing subtypes of BC and summarize the most recent clinical trial data for the use of androgen-directed therapy in the treatment of AR+ breast cancer, with a particular emphasis on TNBC.
Recent Findings
Preclinical and clinical data support the activity of the anti-androgen bicalutamide and more recent, next-generation, AR-targeted agents such as enzalutamide in targeting the AR in TNBC. In addition, novel agents which reduce androgen production such as abiraterone acetate and seviteronel are now being tested in BC. As our understanding of the interplay between AR and signaling pathways involving ER and HER2 grows, dual pathway inhibition may prove to be beneficial through informative, combinatorial approaches such as AR antagonism with CDK4/6 pathway inhibitors or PI3K inhibitors.
Summary
Over the recent years, there is accumulating evidence that AR signaling is a relevant driver for some subsets of breast cancer. Several agents have now consistently demonstrated a signal of activity when targeting the androgen receptor in TNBC in particular. We need to better define which patients are most likely to benefit from an AR-directed approach. Ongoing and future trials aim to clarify the role of targeting AR with single agent and combinatorial therapies in both the metastatic and adjuvant setting. It is hoped that these trials, which incorporate informative correlative components, will further our understanding of the biology of AR+ BC and will show the way to an increased number of treatment options and improved outcomes for our patients.