01.03.2016 | Original Article | Ausgabe 2/2016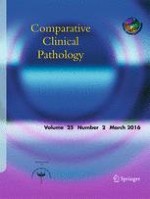 Anesthetic effect of xylazine and benzocaine on hematological parameters and stress indicators of juvenile grass carp,
Ctenopharyngodon idella

(Valenciennes, 1844)
Zeitschrift:
Autoren:

Matin Shakeri, Ali Sadeghpour, Hossein Khara
Abstract
In this study, we investigated the efficacies of two anesthetics agents, xylazine and benzocaine, then compared hematological parameters and biochemical indices under optimum concentrations of two anesthetics with clove oil on juvenile grass carp,
Ctenopharyngodon idella
. The optimum concentrations were determined as 0.3 mg/l for xylazine and 50 mg/l for benzocaine. Significant increases in hematological parameters including white blood cell, red blood cell, and hematocrit were observed for the two anesthetics agents compared to clove oil. Plasma cortisol, glucose, and lactate concentrations increased significantly in xylazine and benzocaine compared to clove oil. Results demonstrated that xylazine was more effective in deep anesthesia and recovery times. The lower changes in biochemical indices for fish anesthetized with xylazine were found, which appears xylazine had the lower physiological responses in juvenile grass carp rather than benzocaine.