01.12.2018 | Case report | Ausgabe 1/2018 Open Access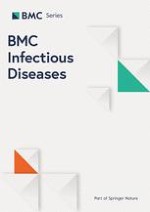 Angiocentric lymph proliferative disorder (lymphomatoid granulomatosis) in a person with newly-diagnosed HIV infection: a case report
Zeitschrift:
Autoren:

Cecilia T. Costiniuk, Jason Karamchandani, Ali Bessissow, Jean-Pierre Routy, Jason Szabo, Charles Frenette
Abstract
Background
Angiocentric lymph proliferative disorder (ALPD) is a granulomatous lymphoproliferative condition associated with various primary and secondary immunodeficiency states. ALPD is so rare that its prevalence has not been established. Typically affecting middle-aged adults, this condition is often found in the context of Epstein Bar Virus infection and consists of angiocentric and angioinvasive pulmonary infiltrates. Herein, we present a biopsy-proven case of a patient manifesting with a viral meningoencephalomyelitis-like picture with brain, spinal cord, renal and splenic lesions. The diagnosis was confirmed to be ALPD in the context of newly diagnosed HIV infection.
Case presentation
A 35 year-old homosexual man presented with a 5-week history of headaches followed by a 3-week history of horizontal diplopia, limb weakness and right 6th cranial nerve palsy. Lumbar puncture revealed a lymphocytic pleocytosis, high protein and low glucose. Magnetic Resonance Imaging showed scattered lesions throughout the brain and spinal cord and Computed Tomography of the abdomen and pelvis revealed hypodensities involving the kidneys and spleen. HIV testing was positive, with a viral load of 11,096 copies/mL and CD4 count of 324 cells/μL. Serum Epstein Bar virus PCR was positive with 12,434 copies/ml. Right frontal brain biopsy revealed gray matter containing angiogentric cerebritis with organizing infarction but Epstein Bar Virus-in situ preparations were negative and no viral inclusions were identified. A diagnosis of ALPD (also known as lymphomatoid granulomatosis
)
was made. The patient was initiated on antiretroviral therapy and treated with intravenous rituximab every 3 weeks for 4 cycles and made progressive improvements. By the time of discharge his strength had improved and he was ambulating again although with a walker. Within 2 months, his HIV viral load was suppressed. Magnetic Resonance Imaging of the brain 6 months later revealed interval improvement. At his most recent follow-up, 34 months later, his neurological symptoms had almost completed resolved.
Conclusion
Albeit rare, ALPD should be considered in the differential diagnosis of central nervous system lesions in persons with HIV once common etiologies have been eliminated. Furthermore, ALPD involving the central nervous system may occur in in the absence of documented EBV infection in the central nervous system.