11.05.2016 | Ausgabe 4/2016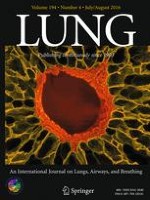 ANGPTL4 Correlates with NSCLC Progression and Regulates Epithelial-Mesenchymal Transition via ERK Pathway
Zeitschrift:
Autoren:

Xiaoming Zhu, Xiaobin Guo, Sen Wu, Li Wei
Abstract
Purpose
Lung cancer remains the leading cause of cancer deaths with intricate mechanisms. In the present study, we evaluated the clinical significance and biological role of ANGPTL4 in non-small cell lung cancer (NSCLC), the most common lung cancer subtype.
Methods
Quantitative reverse transcription-polymerase chain reaction (qRT-PCR) was used for examining the mRNA level of ANGPTL4 in NSCLC tissues and adjacent non-tumor tissues, NSCLC cell lines, and the immortalized human bronchial epithelial cell line HBE, respectively. A tissue microarray was used for analyzing the relationship between ANGPTL4 expression and the clinicopathological parameters of NSCLC patients. Commercial lentivirus expressing shRNAs was used for silencing ANGPTL4. Cell Counting Kit-8 (CCK-8) was employed for evaluating the cell proliferation ability and transwell with or without matrigel was used for cell migration and invasion assay.
Results
As the result, ANGPTL4 was over-expressed in NSCLC tissues compared with benign lung tissues. Silencing ANGPTL4 expression strongly inhibited the proliferation, migration, and invasion of A549 and H520 cells, which was in accordance with the increase of epithelial marker E-cadherin and decrease of mesenchymal marker vimentin. By screening the ERK, AKT, EGFR, and STAT3 pathways, we found that cell growth, migration, and invasion arrest induced by loss of ANGPTL4 expression was partially attributable to down-regulation of ERK signaling.
Conclusion
These results suggested that ANGPTL4 was essential for proliferation and metastasis of lung cancer cells and might serve as a novel target for the treatment of lung cancer.