01.12.2010 | Research article | Ausgabe 1/2010 Open Access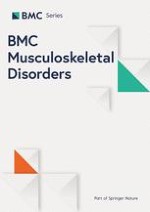 Annual consultation prevalence of regional musculoskeletal problems in primary care: an observational study
Zeitschrift:
Autoren:

Kelvin P Jordan, Umesh T Kadam, Richard Hayward, Mark Porcheret, Catherine Young, Peter Croft
Wichtige Hinweise
Electronic supplementary material
The online version of this article (doi:
10.​1186/​1471-2474-11-144
) contains supplementary material, which is available to authorized users.
Competing interests
The authors declare that they have no competing interests.
Authors' contributions
KPJ, UTK, MP, CY and PC conceived and designed the study. All authors were involved in carrying out the study and interpreting the results. KPJ performed the statistical analysis and drafted the manuscript. All authors read, commented on and approved the final manuscript.
Background
The aims of this study were to determine the annual consultation prevalence for musculoskeletal problems in primary care, classified by body region, and to develop a resource for primary care researchers working in this field.
Methods
The study was performed by first identifying all musculoskeletal Read Codes and classifying them into body regions, and then applying the classification to a primary care consultation database.
Setting
The setting was the Consultations in Primary Care Archive (CiPCA), a high quality, validated database, which contains all recorded consultation data from a subset of general practices in North Staffordshire, UK, since 1998[
1
,
20
]. Ethical approval for CiPCA was granted by the North Staffordshire Research Ethics Committee. In 2006, twelve practices contributed to CiPCA. These practices cover a range of areas in terms of deprivation although generally North Staffordshire is more deprived than England as a whole. In the UK, over 95% of the population are registered with a general practice and general practice is the first point of access to the National Health Service for most non-emergency care in the UK.
The practices undergo an annual cycle of assessment, feedback and training in morbidity coding[
20
]. Doctors and nurses are requested to enter at least one morbidity code for each contact. Whilst encouraged to use diagnostic codes, symptom codes may be used until a diagnosis is made. In 2006, 97% of all contacts with a GP had a morbidity code assigned.
CiPCA has been shown to give similar annual consultation prevalence rates for musculoskeletal problems (defined as codes under Chapter N "Musculoskeletal and connective tissue diseases" of the Read Code hierarchy), osteoarthritis, rheumatoid arthritis, and arthralgia as the larger, national RCGP WRS[
1
].
Identification of codes and allocation to regions
In the first stage of the study, two GPs independently identified all morbidity Read codes potentially relating to pain or musculoskeletal disorders, irrespective of Read Code Chapter assignment. Agreement on the framework for allocation of codes to regions and formal training in its use were performed using a sample of 100 codes. Four GPs allocated the full set of codes to individual body regions (e.g. back, knee). For the purposes of this study, all identified Codes under Chapters N "Musculoskeletal and connective tissues diseases", R "Symptoms, Signs and Ill-defined conditions", S "Injury and Poisoning" and 1 "History/Symptoms" were used as they were deemed to be predominantly musculoskeletal. If no body region could be allocated, the code was defined as "unspecified". "Unspecified" problems tended to be codes where either no region was described in the associated Read Term (e.g. the term simply specified "arthralgia") or the problem covered more than one region (e.g. "generalised osteoarthritis"). For codes which were labelled as unspecified, a research GP and a non-clinical researcher further identified those defining a "more widespread" or generalised problem (i.e. likely to cover more than one body region) based on the associated Read term. Examples of widespread terms include terms such as "generalised osteoarthritis" and "multiple arthralgia". The list of Read Codes and associated terms relating to the knee, and those relating to generalised or widespread problems, are given as examples of the classification in additional file
1
.
The defined regions were then grouped into four main body sectors: (i) head/neck, (ii) torso, (iii) upper limb, and (iv) lower limb. Regions covered by the torso sector included the back (upper, lower, or not stated), abdomen, chest, and trunk. The upper limb sector included consultations for hand, wrist, elbow, forearm, shoulder, and upper arm. The lower limb sector included consultations specified as foot, ankle, lower leg, knee, thigh, hip, and pelvis.
Measurement of annual consultation prevalence
For the calendar year 2006, all consultations at the surgery, home visit, or by telephone which had one of the identified morbidity codes were extracted. Some codes have alternative terms (for example, Read Code N05z6 has the terms "osteoarthritis of the lower leg" and "osteoarthritis of the knee"). Therefore final checks of the terms were made to ensure the correct region was allocated based on the term as well as the code (for example, allocation to lower leg or knee).
"Annual consultation prevalence" was defined as the proportion of all people registered with the practices who had consulted at least once in the year with the relevant problem. People could only be counted once for any region or sector even if they consulted for more than one treatment episode or problem in the same region or sector. Hence all further consultations for the same region (or sector as appropriate) following the first consultation for that region/sector in the year were ignored.
Using the number of people registered at the practices at mid-year (1
st
July) as the denominator, annual consultation prevalence figures per 10,000 registered persons, stratified by age and gender, were determined for each region of the body, and for each sector (head/neck, torso, upper and lower limb). A total population standardised consultation prevalence rate was also determined for each region, using direct standardisation, by applying the CiPCA prevalence rates to the age-gender general population structure of England and Wales in 2006[
21
].
Differences between genders in regional prevalence rates were assessed through use of negative binomial regression, adjusting for age group. The female to male prevalence rate ratio with 95% confidence interval is reported.
The annual consultation-based prevalence of "widespread" problems was also determined. This was based on two definitions: i) separate recorded consultations for regions in two or more of the four sectors (head/neck, torso, upper limb, lower limb); ii) a recorded generalised/widespread code during the year based on the codes given in the additional file
1
.
Region and sector consultations as percentage of all musculoskeletal consultations
Finally, as a measure of relative workload related to individual regions and sectors, the total number of consultations (including repeat consultations) for each region, and for each sector, was calculated as a percentage of all musculoskeletal consultations.
Analysis was performed using SPSS 15.0 for Windows and Stata/IC 10.0 for Windows.
Results
Discussion
This study has highlighted the frequency of musculoskeletal problems in primary care. One in seven of all recorded consultations in the twelve study practices during 2006 was for a musculoskeletal problem. One in four of the registered population consulted for a musculoskeletal problem in that year, rising to more than one in three of older adults. The back was the most common reason for consultation, followed by the knee, chest and neck; except in children where the foot was the predominant regional problem.
About one in four musculoskeletal consultations were given codes outside the musculoskeletal (Chapter N) chapter. These included symptoms such as knee pain and injuries such as fractures. Some GPs may prefer to use a symptom code until they can clearly make a diagnosis. Using only codes within the titled musculoskeletal chapter, would lead to an underestimate of the musculoskeletal problems seen in primary care.
As with all studies set within primary care, this study can only measure problems for which health care is sought. The general population prevalence of problems will be higher as many people will have regional pain but do not consult.
Conclusions
The use of a classification system based on body regions rather than diagnosis highlights the extensive and varied musculoskeletal workload in primary care, and the extent of multiple regional problems. Musculoskeletal problems need to be recognised as a major constituent of general practice, particularly the extent of problems in multiple body regions, highlighted by this new classification system. With the increased use of electronic recording in recent years, this new classification of regional problems provides a potential resource for researchers to standardise randomised controlled trials of regional pain in primary care and identify eligible participants from morbidity records, or to assess the primary care management and outcome of regional musculoskeletal problems.
Acknowledgements
The Keele GP Research Partnership and the Informatics team at the Arthritis Research UK Primary Care Centre. CiPCA funded by the North Staffordshire Primary Care Research Consortium and the National Coordinating Centre for Research Capacity Development (NCCRCD).
Competing interests
The authors declare that they have no competing interests.
Authors' contributions
KPJ, UTK, MP, CY and PC conceived and designed the study. All authors were involved in carrying out the study and interpreting the results. KPJ performed the statistical analysis and drafted the manuscript. All authors read, commented on and approved the final manuscript.