01.03.2016 | Original Article | Ausgabe 2/2016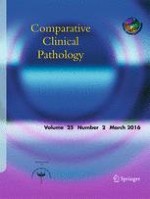 Annual variations in resistive index (RI) of testicular artery, volume measurements and testosterone levels in bucks
Zeitschrift:
Autoren:

A. Strina, A. Corda, S. Nieddu, G. Solinas, M. Lilliu, M. T. Zedda, S. Pau, S. Ledda
Abstract
The gonads of animals with sexual seasonality should change their metabolic requests throughout the year. In this study, we registered the variations of testicular volumes and serum testosterone levels in three Sarda bucks (
Capra Hircus
) and characterized the blood flow in the testicular artery by Doppler Ultrasonography, in order to shed light onto the type of relation between these parameters. After a 12-month study we observed that testicular volumes and testosterone levels show a typical seasonal variation with a maximum volume of testicular parenchyma recorded in September (116.06 ± 25.22 ml) while testosterone reached its peak in December (620.43 ± 192.87 ng/dl). Blood supply and resistivity seem to follow the changes in the parenchyma according to the functional activity, and the lowest resistivity values were observed in September (0.73 ± 0.02). An inverse U-shape best describes the relationship between testicular volume and testosterone levels (
p
 < 0.05). This is the first report showing the changes in the blood supply to the testicular parenchyma of the buck throughout the year.