14.09.2017 | Original Article | Ausgabe 1/2019 Open Access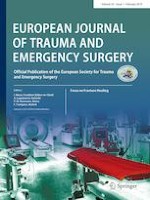 Antegrade intramedullary Kirschner-wire fixation of displaced metacarpal shaft fractures
Zeitschrift:
Autoren:

E. M. van Bussel, R. M. Houwert, T. J. M. Kootstra, M. van Heijl, D. Van der Velde, Ph. Wittich, J. Keizer
Abstract
Purpose
The objective of this study was to analyze complications and patient-related functional outcome after antegrade intramedullary Kirschner-wire fixation of metacarpal shaft fractures.
Methods
All consecutive patients treated from January 2010 until December 2015 were retrospectively analyzed using patient logs and radiographic images. Indications for operative fixation were angulation > 40°, shortening > 2 mm, or rotational deficit. Complications were registered from the patient logs. Functional outcome was assessed with the Patient-rated wrist/hand evaluation (PRWHE) and Disabilities of the Arm, Shoulder, and Hand score (DASH) questionnaire both ranging from 1 to 100 after a minimum follow-up of 6 months.
Results
During the study period, 34 fractures of 27 patients could be included. Mean outpatient follow-up was 11 weeks (range 4–24 weeks). The mean interval for functional assessment was 30 months (range 8–62 months) and 19 patients (70%) responded to the questionnaires. During outpatient follow-up, all fractures proceeded to union with no signs of secondary fracture dislocation or implant migration. One re-fracture after a new adequate trauma was seen and one patient underwent tenolysis due to persistent pain and impaired function. In 26 cases (81%), the K-wires were removed of which 23 (68%) were planned removals. Functional outcome was excellent with mean PRWHE and DASH scores of 7 and 5 points, respectively.
Conclusions
If surgical treatment for metacarpal shaft fractures is considered, we recommend antegrade intramedullary K-wire fixation. This technique results in low complication rates and excellent functional outcome.