01.12.2015 | Research article | Ausgabe 1/2015 Open Access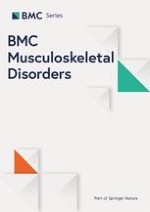 Anterior cruciate ligament remnant tissue harvested within 3-months after injury predicts higher healing potential
Zeitschrift:
Autoren:

Shurong Zhang, Tomoyuki Matsumoto, Atsuo Uefuji, Takehiko Matsushita, Koji Takayama, Daisuke Araki, Naoki Nakano, Kanto Nagai, Tokio Matsuzaki, Ryosuke Kuroda, Masahiro Kurosaka
Wichtige Hinweise
Competing interests
The authors have not received grant support or research funding and whether they have or do not have any proprietary interests in the materials described in the article.
Authors' contributions
SZ and *TM had full access to all of the data in the study and takes responsibility for the decision to submit this work for publication. *TM, SZ, and TM (Takehiko Matsushita) designed the study and participated in data analysis and interpretation, manuscript drafting and critical revision. AU, KT, DA, NN, KN, and TM (Tokio Matsuzaki) performed laboratory work and contributed to data collection, data analysis and interpretation. RK and MK also contributed to the critical revision of the manuscript. All of authors read and approved the final version of the manuscript to be published.
Abstract
Background
No study has examined the possible factors associated with different characteristics of stem-like cells derived from anterior cruciate ligament (ACL) remnants. And the purpose of the study is to elucidate whether demographic factors are associated with healing potential of stem-like cells derived from the ACL remnants tissue.
Methods
Thirty-six ACL remnants were harvested from patients who received primary arthroscopic ACL reconstruction. Interval from injury to surgery, age, sex, and combined meniscal or chondral injuries were analyzed. Cells were isolated from remnant tissues and their healing potential was evaluated by: 1) characterization of surface markers (CD34, CD44, CD45, CD146, CD29, and Stro-1), 2) cell expansion, 3) osteogenic differentiation, and 4) endothelial differentiation. Finally, using multivariable logistic regression to evaluate the relation between demographic factors and healing potential parameters. Adjusted odds ratios (OR) were calculated, and the significant difference was set at
p
 < 0.05.
Results
ACL remnant tissue harvested less than 90 days after injury predicted higher fractions of stem-like cells [CD34+ (OR = 6.043,
p
 = 0.025), CD44 + (OR = 8.440,
p
 = 0.011), CD45+ (OR = 16.144,
p
 = 0.015), and CD146+ (OR = 9.246,
p
 = 0.015)] and higher expansion potential (passage 3: OR = 9.755,
p
 = 0.034; passage 10: OR = 33.245,
p
 = 0.003). Regarding osteogenic differentiation, higher gene expression of Osteocalcin (OR = 22.579,
p
 = 0.009), Alkaline phosphatase (OR = 6.527,
p
 = 0.022), and Runt-related transcription factor 2 (OR = 5.247,
p
 = 0.047) can also be predicted. Younger age predicted higher CD34+ levels (20 ≤ age <30 years, OR = 2.020,
p
 = 0.027) and higher expansion potential at passage 10 (10 ≤ age <20 years, OR = 25.141,
p
 = 0.026). There was no significant relation found between meniscal or chondral injuries and ACL healing potential.
Conclusion
Our results indicated that the ACL remnant tissue harvested within 3-months after injury yields higher healing potential, suggesting early surgical intervention may achieve better clinical results.