01.01.2012 | Original Article | Ausgabe 1/2012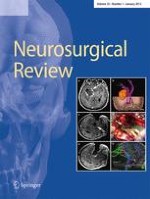 Anterior inferior cerebellar artery aneurysms: six cases and a review of the literature
Zeitschrift:
Autoren:

Xin Li, Dong Zhang, Jizong Zhao
Wichtige Hinweise
Xin Li and Dong Zhang contributed equally to this work as first coauthors.
Comments
Siamak Asgari, Ingolstadt, Germany
The authors reported about six patients with six aneurysms located at the distal portion of the anterior inferior cerebellar artery (AICA). Two patients were presented in details. All patients suffered from spontaneous intracranial hemorrhage. All patients underwent microsurgical treatment via retrosigmoid (
n
 = 4) or far-lateral approach. The clinical results mainly were good with some degree of cranial nerve deficits due to the preoperative symptomatology (facial nerve, vestibulocochlear nerve). However, the clinical data, tables, and figures are of good to excellent quality. Additionally, the authors gave a good review of the literature concerning microsurgical series. In my own experience, AICA aneurysms are very rare. The last two cases I remember, were AVM-associated and treated endovascularly before resection of the residual AVM nidus. In modern management of intracranial vascular malformations, neuro-interventional or endovascular strategies have to be included into the considerations.
William T. Couldwell, Salt Lake City, UT, USA
The authors report on six cases of AICA aneurysms treated at their institution over a recent 8-year period. Five of these eight cases were ruptured at the time of treatment. These aneurysms represented only 0.3% of all of the 1,647 aneurysms treated over this period, which is a testament to the rare nature of developing aneurysms in this location. Add to this fact that there were two cases of unusual lesions among the six (such as one aneurysm associated with a feeding artery to an AVM and a giant fusiform lesion), it is noted that the prevalence of a standard berry aneurysm in this location is very rare indeed. The paper provides a nice description of their clinical presentation and techniques used for surgical management of this series of patients. All of the aneurysms were approached using an open surgery; no endovascular therapy was used. One half of the six aneurysms were meatal in location and the others were post-meatal (two cases) or pre-meatal (one case).
The authors report that cranial nerve deficits were the most common complication. As expected, given the location of these aneurysms, VII and VIII nerve injuries were the most frequent; one half of the patients permanently lost hearing, and all lesions in the meatal location, indicating that this complication is very high for lesions in this location, either caused by rupture of the aneurysm or its surgical treatment. It will be important to see whether the treatment-related cranial nerve injuries will be diminished by evolving endovascular techniques. The authors should be commended on their successful management of this difficult subset of aneurysm patients.
Michael T. Lawton, San Francisco, USA
Dr. Zhao and colleagues describe a clinical series of six patients with AICA aneurysms including an AVM-associated aneurysm and a giant aneurysm. I congratulate the authors on their excellent surgical results. We recently reported a nomenclature for cerebellar arteries that might refine the localization of AICA aneurysms (1). As the authors discuss, the choice between endovascular and microsurgical can be challenging. Aneurysm location along AICA is an important factor. In general, I prefer coiling AICA aneurysms that are proximal at the AICA origin and clipping aneurysms that are more distally located. It has been my experience as well that the retrosigmoid approach adequately exposes these aneurysms without more extensive presigmoidal drilling.
Distal aneurysms can be buried in the canal or draped by the nerves, and an aneurysm's relationship to the internal auditory meatus should be evaluated carefully preoperatively. Reconstructive techniques with clips or bypass are effective in repairing these often dysmorphic aneurysms with the preservation of AICA circulation.
1. Rodriguez-Hernandez A, Rhoton AL Jr., Lawton MT (2011) Segmental anatomy of cerebellar arteries: a proposed nomenclature. J Neurosurg. doi:
10.​3171/​2011.​3.​JNS101413
Abstract
Aneurysms of the anterior inferior cerebellar artery are rare. Six cases of anterior inferior cerebellar artery (AICA) aneurysms treated at one center are presented. The six cases of AICA aneurysms were surgically treated. The clinical features, surgical process, complications, and follow-up are demonstrated. Six patients with six AICA aneurysms were presented including one AVM accompanied aneurysm and one giant aneurysm. Five aneurysms had ruptured, one was unruptured. Five patients presented with subarachnoid hemorrhage (SAH) including two with intraventricular hemorrhaging and one with an intraparenchymal hematoma. One aneurysm was proximal, two were distal, and three were meatal. All cases were treated surgically. Retrosigmoid and far-lateral craniectomy were included. Navigation was accomplished through intraoperative ultrasound and fluorescent angiography. Resection of the aneurysm after clipping was significant. The most common postoperative deficit involved the cranial nerves in four patients. Follow-up was available for all patients for a mean of 68 months. SAH is the most common presentation. The relationship between the aneurysms and the meatus is an important factor for neurological dysfunction. 3D-CTA and MRA may be considered as diagnostic adjuncts. Several special surgical techniques used in our cases are worth noting. Endovascular therapy for AICA aneurysms is in the process of development and should be reserved for special cases.