30.04.2016 | Ausgabe 2/2017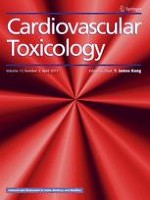 Anti-apoptotic and Pro-survival Effects of Food Restriction on High-Fat Diet-Induced Obese Hearts
Zeitschrift:
Autoren:

Yi-Yuan Lin, Po-Shiuan Hsieh, Yu-Jung Cheng, Shiu-Min Cheng, Chiao-nan (Joyce) Chen, Chih-Yang Huang, Chia-Hua Kuo, Chung-Lan Kao, Woei-Cherng Shyu, Shin-Da Lee
Wichtige Hinweise
Woei-Cherng Shyu and Shin-Da Lee contributed equally to this work.
Abstract
Food restriction and weight loss are known to prevent obesity-related heart diseases. This study investigates whether food restriction elicits anti-apoptotic and pro-survival effects on high-fat diet-induced obese hearts. Histopathological analysis, TUNEL assay, and Western blotting were performed on the excised hearts from three groups of Sprague–Dawley rats which were fed with regular chow diet (CON, 13.5 % fat), a high-fat ad libitum diet (HFa, 45 % fat), or a high-fat food-restricted diet (HFr, 45 % fat, maintaining the same weight as CON) for 12 weeks. Body weight, blood pressure, heart weight, triglycerides, insulin, HOMA
IR
, interstitial spaces, cardiac fibrosis, and cardiac TUNEL-positive apoptotic cells were increased in HFa relative to CON, whereas these parameters were decreased in HFr relative to HFa. The protein levels of cardiac Fas ligand, Fas receptors, Fas-associated death domain (FADD), activated caspase-8, and activated caspase-3 (Fas receptor-dependent apoptotic pathways), as well as t-Bid/Bid, Bax/Bcl-2, Bad/p-Bad, Cytochrome
c
, activated caspase-9, and activated caspase-3 (mitochondria-dependent apoptotic pathways) in HFr were lower than those in HFa. Moreover, the Bcl-xL and IGF-1-related components of IGF-1, p-PI3 K/PI3 K, p-Akt/Akt in HFr were higher than those in HFa. Our findings suggest that a restricted high-fat diet for maintaining weight control could diminish cardiac Fas receptor-dependent and mitochondria-dependent apoptotic pathways as well as might enhance IGF-1-related pro-survival pathways. In sum, food restriction for maintaining normal weight could elicit anti-apoptotic and pro-survival effects on high-fat diet-induced obese hearts.