01.12.2018 | Research article | Ausgabe 1/2018 Open Access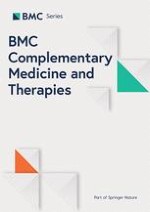 Anti-apoptotic potential of several antidiabetic medicinal plants of the eastern James Bay Cree pharmacopeia in cultured kidney cells
Zeitschrift:
Autoren:

Shilin Li, Sarah Pasquin, Hoda M. Eid, Jean-François Gauchat, Ammar Saleem, Pierre S. Haddad
Abstract
Background
Our team has identified 17 Boreal forest species from the traditional pharmacopeia of the Eastern James Bay Cree that presented promising in vitro and in vivo biological activities in the context of type 2 diabetes (T2D).
We now screened the 17 plants extracts for potential anti-apoptotic activity in cultured kidney cells and investigated the underlying mechanisms.
Methods
MDCK (Madin-Darnby Canine Kidney) cell damage was induced by hypertonic medium (700 mOsm/L) in the presence or absence of maximal nontoxic concentrations of each of the 17 plant extracts. After 18 h' treatment, cells were stained with Annexin V (AnnV) and Propidium iodide (PI) and subjected to flow cytometry to assess the cytoprotective (AnnV−/PI−) and anti-apoptotic (AnnV+/PI−) potential of the 17 plant extracts. We then selected a representative subset of species (most cytoprotective, moderately so or neutral) to measure the activity of caspases 3, 8 and 9.
Results
Gaultheria hispidula
and
Abies balsamea
are amongst the most powerful cytoprotective and anti-apoptotic plants and appear to exert their modulatory effect primarily by inhibiting caspase 9 in the mitochondrial apoptotic signaling pathway.
Conclusion
We conclude that several Cree antidiabetic plants exert anti-apoptotic activity that may be relevant in the context of diabetic nephropathy (DN) that affects a significant proportion of Cree diabetics.