01.12.2018 | Research article | Ausgabe 1/2018 Open Access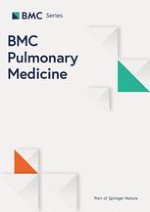 Anti-fibrotic effects of pirfenidone and rapamycin in primary IPF fibroblasts and human alveolar epithelial cells
Zeitschrift:
Autoren:

M. Molina-Molina, C. Machahua-Huamani, V. Vicens-Zygmunt, R. Llatjós, I. Escobar, E. Sala-Llinas, P. Luburich-Hernaiz, J. Dorca, A. Montes-Worboys
Abstract
Background
Pirfenidone, a pleiotropic anti-fibrotic treatment, has been shown to slow down disease progression of idiopathic pulmonary fibrosis (IPF), a fatal and devastating lung disease. Rapamycin, an inhibitor of fibroblast proliferation could be a potential anti-fibrotic drug to improve the effects of pirfenidone.
Methods
Primary lung fibroblasts from IPF patients and human alveolar epithelial cells (A549) were treated in vitro with pirfenidone and rapamycin in the presence or absence of transforming growth factor β1 (TGF−β). Extracellular matrix protein and gene expression of markers involved in lung fibrosis (tenascin-c, fibronectin, collagen I [COL1A1], collagen III [COL3A1] and α-smooth muscle actin [α-SMA]) were analyzed. A cell migration assay in pirfenidone, rapamycin and TGF−β-containing media was performed.
Results
Gene and protein expression of tenascin-c and fibronectin of fibrotic fibroblasts were reduced by pirfenidone or rapamycin treatment. Pirfenidone-rapamycin treatment did not revert the epithelial to mesenchymal transition pathway activated by TGF−β. However, the drug combination significantly abrogated fibroblast to myofibroblast transition. The inhibitory effect of pirfenidone on fibroblast migration in the scratch-wound assay was potentiated by rapamycin combination.
Conclusions
These findings indicate that the combination of pirfenidone and rapamycin widen the inhibition range of fibrogenic markers and prevents fibroblast migration. These results would open a new line of research for an anti-fibrotic combination therapeutic approach.