01.12.2018 | Research | Ausgabe 1/2018 Open Access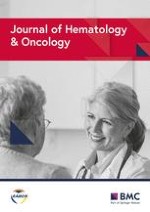 Anti-GD2/4-1BB chimeric antigen receptor T cell therapy for the treatment of Chinese melanoma patients
Zeitschrift:
Autoren:

Jiayi Yu, Xiaowen Wu, Junya Yan, Huan Yu, Longwen Xu, Zhihong Chi, Xinan Sheng, Lu Si, Chuanliang Cui, Jie Dai, Meng Ma, Tianxiao Xu, Yan Kong, Jun Guo
Wichtige Hinweise
Electronic supplementary material
Abstract
Background
Chimeric antigen receptor (CAR)-engineered T cells have demonstrated promising clinical efficacy in patients with B cell lymphoma. However, the application of CAR-T cell therapy in the treatment of other solid tumors has been limited. We incorporated 4-1BB into the anti-GD2 CAR-T cells to test their cytotoxicity in melanoma in vitro and in vivo. Moreover, we reported the expression of ganglioside GD2 in non-Caucasian melanoma populations for the first time, thus providing a basis for future clinical research.
Methods
This study included tumor samples from 288 melanoma patients at the Peking University Cancer Hospital & Institute. Clinical data were collected. Immunohistochemical assays using antibodies against ganglioside GD2 were performed on formalin-fixed, paraffin-embedded specimens. The ability of ganglioside GD2 CAR-T cells to kill ganglioside GD2+ melanoma cells was evaluated in vitro and in a patient-derived xenograft (PDX) model.
Results
Among the 288 samples, 49.3% of cases (142/288) demonstrated positive staining with ganglioside GD2. The median survival time in patients exhibiting ganglioside GD2 expression was significantly shorter than that in patients without ganglioside GD2 expression (31 vs. 47.1 months,
P
 < 0.001). In the present study, CAR was constructed using a GD2-specific scFv (14.G2a), T cell receptor CD3ζ chain, and the CD137 (4-1BB) costimulatory motif. In addition, the GD2.BBζ CAR-T cells demonstrated specific lysis of ganglioside GD2-expressing melanoma cells in vitro. In two PDX models, mice that received intravenous or local intratumor injections of GD2.BBζ CAR-T cells experienced rapid tumor regression.
Conclusions
These data demonstrate that the rate of GD2 expression in Chinese patients is 49.3%. GD2.BBζ CAR-T cells can both efficiently lyse melanoma in a GD2-specific manner and release Th1 cytokines in an antigen-dependent manner in vitro and in vivo. Anti-GD2/4-1BB CAR-T cells represent a clinically appealing treatment strategy for Chinese melanoma patients exhibiting GD2 expression and provide a basis for future studies of the clinical application of immunotherapy for melanoma.