01.12.2018 | Research | Ausgabe 1/2018 Open Access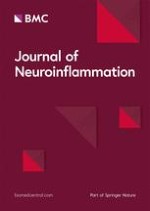 Anti-high mobility group box 1 antibody suppresses local inflammatory reaction and facilitates olfactory nerve recovery following injury
Zeitschrift:
Autoren:

Masayoshi Kobayashi, Kengo Tamari, Mohammed Omar Al Salihi, Kohei Nishida, Kazuhiko Takeuchi
Abstract
Background
Refractory olfactory dysfunction is a common finding in head trauma due to olfactory nerve injury. Anti-inflammatory treatment using steroids is known to contribute to functional recovery of the central and peripheral nervous systems in injury models, while there is a concern that steroids can induce side effects. The present study examines if the inhibition of proinflammatory cytokine, high mobility group box 1 (HMGB1), can facilitate olfactory functional recovery following injury.
Methods
Olfactory nerve transection (NTx) was performed in OMP-tau-lacZ mice to establish injury models. We measured HMGB1 gene expression in the olfactory bulb using semi-quantitative polymerase chain reaction (PCR) assays and examined HMGB1 protein localization in the olfactory bulb using immunohistochemical staining. Anti-HMGB1 antibody was intraperitoneally injected immediately after the NTx and histological assessment of recovery within the olfactory bulb was performed at 5, 14, 42, and 100 days after the drug injection. X-gal staining labeled OMP in the degenerating and regenerating olfactory nerve fibers, and immunohistochemical staining detected the presence of reactive astrocytes and macrophages/microglia. Olfactory function was assessed using both an olfactory avoidance behavioral test and evoked potential recording.
Results
HMGB1 gene and protein were significantly expressed in the olfactory bulb 12 h after NTx. Anti-HMGB1 antibody-injected mice showed significantly smaller areas of injury-associated tissue, fewer astrocytes and macrophages/microglia and an increase in regenerating nerve fibers. Both an olfactory avoidance behavioral test and evoked potential recordings showed improved functional recovery in the anti-HMGB1 antibody-injected mice.
Conclusions
These findings suggest that inhibition of HMGB1 could provide a new therapeutic strategy for the treatment of olfactory dysfunction following head injuries.