01.12.2018 | Research article | Ausgabe 1/2018 Open Access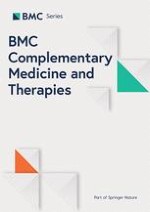 Anti-inflammatory activities of Guang-Pheretima extract in lipopolysaccharide-stimulated RAW 264.7 murine macrophages
Zeitschrift:
Autoren:

Chuanqi Huang, Wei Li, Qiufeng Zhang, Lihong Chen, Weiming Chen, Hongchao Zhang, Yuxin Ni
Abstract
Background
Guang-Pheretima, which is originated from
Pheretima aspergillum
, has been documented in academic Chinese herbal studies for nearly 2000 years for its prominent treating effects of various inflammatory diseases such as asthma, cough and fever. However, the anti-inflammatory activity and mechanism of Guang-Pheretima has been rarely reported. Hence, we investigated the inhibitory effect and the underlying mechanism of Guang-Pheretima aqueous extracts on inflammatory response in RAW 264.7 cells.
Method
RAW 264.7 macrophages were pretreated with various concentrations of Guang-Pheretima decoction (GPD) or protein-free Guang-Pheretima decoction (PF-GPD) and subsequently stimulated with lipopolysaccharide (LPS) to trigger the inflammatory response. Productions of nitric oxide (NO) were determined by Griess reaction, and prostaglandin E2 (PGE2), tumor necrosis factor-α (TNF-α), interleukin (IL)-1β, IL-6 were measured by enzyme-linked immunosorbent assays (ELISA). The protein expressions and messenger ribonucleic acid (mRNA) amounts of inducible nitric oxide synthase (iNOS) and cyclooxygenase (COX)-2 were analyzed by Western Blot and Real-Time polymerase chain reaction (PCR), respectively. Finally, the translocation of nuclear factor (NF)-κB was observed by Western Blot.
Results
GPD of the experimental concentrations showed no anti-inflammatory activity. In contrast, PF-GPD at concentrations of 40–320 μg/mL significantly inhibited NF-κB activation and reduced the production of inflammatory mediators, such as NO, PGE2, TNF-α, as well as the related key synthases including iNOS and COX-2. Moreover, PF-GPD markedly suppressed the release of inflammatory cytokines, such as IL-1β and IL-6.
Conclusion
These results demonstrate the excellent anti-inflammatory properties of PF-GPD, and suggest that Guang-Pheretima may be used to treat and prevent certain inflammatory diseases.