05.06.2019 | Original Research Paper | Ausgabe 8/2019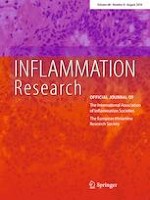 Anti-inflammatory activity of extensively hydrolyzed casein is mediated by granzyme B
Zeitschrift:
Autoren:

Xuefei Hu, Yan Zhong, Tim T. Lambers, Wenzheng Jiang
Wichtige Hinweise
Responsible Editor: Bernhard Gibbs.
Publisher's Note
Springer Nature remains neutral with regard to jurisdictional claims in published maps and institutional affiliations.
Abstract
Objective
Nutritional factors such as extensively hydrolyzed casein (eHC) have been proposed to exert anti-inflammatory activity and affect clinical outcomes such as tolerance development in cow's milk allergy. Granzyme B (GrB) induces apoptosis in target cells and also controls the inflammatory response. Whether eHC could affect the activity of granzyme B and play a role in GrB-mediated inflammatory responses in vitro was unknown.
Methods
The activity of GrB was measured using the substrate Ac-IEPD-pNA. Inflammatory responses were induced with GrB in HCT-8 and THP-1 cells, and pro-inflammatory cytokines were determined at the transcriptional and protein level.
Results
GrB could induce the expression of IL-1β in HCT-8 cells, and IL-8 and MCP-1 in THP-1 cells, respectively. Interestingly, GrB acted synergistically on LPS-induced inflammation in HCT-8 cells and eHC reduced pro-inflammatory responses in both GrB and LPS-mediated inflammation. Further analyses revealed that eHC could inhibit the biological activities and cytotoxic activities of GrB and then could reduce GrB-mediated inflammatory response.
Conclusion
The results from the current study suggest that anti-inflammatory activity of extensively hydrolyzed casein is, to a certain extent, mediated through modulation of granzyme B activity and responses.