01.12.2018 | Research | Ausgabe 1/2018 Open Access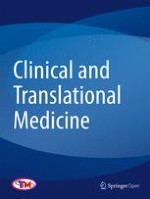 Anti-inflammatory and antiplatelet effects of non-vitamin K antagonist oral anticoagulants in acute phase of ischemic stroke patients
Zeitschrift:
Autoren:

Taizen Nakase, Junta Moroi, Tatsuya Ishikawa
Abstract
Background
Recently, non-vitamin K antagonist oral anticoagulants such as direct thrombin and direct factor Xa inhibitors have been prescribed for prevention of embolic stroke. While in Japan, argatroban, also a direct thrombin inhibitor, is available for the treatment of atherothrombotic stroke patients. This study aimed to explore whether there is any differences between direct thrombin and direct factor Xa inhibitors regarding the inhibiting effect against thrombogenesis in the clinical setting of acute ischemic stroke.
Methods
Acute ischemic stroke patients newly prescribed anti-thrombotic agents were consecutively screened, and 44 patients with single medicine were enrolled (median 72.0 years-old). Blood samples were obtained at 1 and 2 weeks after the medication started. The extent of anticoagulation activity, inflammatory markers and platelet aggregation were assessed. Patients with antiplatelets were used as control.
Results
Prescribed antithrombotics were dabigatran (group D: n = 12), apixaban (group A: n = 14) and antiplatelet agents (group P: n = 18). Prevalence of stroke risks and anticoagulation activity were not different between groups D and A. The alteration of inflammatory markers in a week in the group A showed similar trend to those in the group P. The group D presented relatively lower amount of high-sensitive C-reactive protein and higher amount of pentraxin-3 compared with groups A and P. While 88.9% of group P patients showed decreased platelet aggregation activity with adenosine diphosphate, 55.6% of group D and 40.0% of group A presented the inhibition of platelet aggregation activity.
Conclusions
Even in acute ischemic stroke patients, both apixaban and dabigatran equally showed the anticoagulation activity. The reduction of inflammatory response might be prominent in apixaban, whereas the inhibition of platelet aggregation activity might be evident in dabigatran.