01.12.2018 | Research | Ausgabe 1/2018 Open Access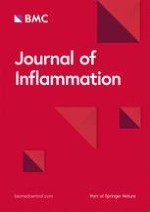 Anti-inflammatory cellular targets on neutrophils elucidated using a novel cell migration model and confocal microscopy: a clinical supplementation study
Zeitschrift:
Autoren:

T. Smith, L. Engelbrecht, C. Smith
Wichtige Hinweise
Electronic supplementary material
Abstract
Background
In vivo studies have shown grape seed-derived polyphenols (GSP) to benefit in recovery from muscle injury by modulation of neutrophil infiltration into damaged tissue, thereby reducing secondary damage, as well as by facilitating an early anti-inflammatory macrophage phenotype shift. The current study aimed to provide data in this context from human models and to elucidate specific molecular targets of GSP.
Using a placebo-controlled, double-blind study design, eighteen normally healthy volunteers between the ages of 18–35 years old (13 female and 5 male) were orally supplemented with 140 mg/day of GSP for 2 weeks.
Blood samples (days 0 and 14) were comprehensively analysed for in vitro neutrophil chemokinetic capacity towards a chemotaxin (fMLP) using a novel neutrophil migration assay, in combination with live cell tracking, as well as immunostaining for neutrophil polarisation factors (ROCK, PI3K) at migration endpoint. Macrophage phenotype marker expression was assessed using flow cytometry.
Results
fMLP induced significant chemokinesis (
P
 < 0.01), validating our model. GSP did not exert a significant effect on neutrophil chemokinesis in this non-compromised population, but tended to decrease overall ROCK expression in fMLP-stimulated neutrophils (
P
 = 0.06). Macrophage phenotype markers CD274 and MPO – indicators of a pro-inflammatory M1 phenotype – seemed to be normalised relative to baseline expression levels after GSP treatment.
Conclusions
Current data suggest that GSP may have a modulatory effect on the ROCK-PI3K-PTEN system, but results in this normal population is not conclusive and should be confirmed in a larger, more inflamed population. Potential modulation of macrophage phenotype by GSP should be investigated further.