01.12.2017 | Research | Ausgabe 1/2017 Open Access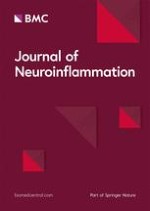 Anti-inflammatory effects of astroglial α7 nicotinic acetylcholine receptors are mediated by inhibition of the NF-κB pathway and activation of the Nrf2 pathway
Zeitschrift:
Autoren:

Hiral Patel, Jessica McIntire, Sarah Ryan, Anthone Dunah, Ralph Loring
Abstract
Background
α7 nicotinic acetylcholine receptors (nAChRs) are widely distributed throughout the central nervous system and are reported to have neuroprotective properties. α7 nAChRs are expressed on astrocytes, which are key regulators of neuroinflammation and oxidative stress in several neurodegenerative diseases. However, the anti-inflammatory and antioxidant properties of astroglial α7 nAChRs are not well studied. Therefore, we evaluated the role of astroglial α7 nAChR activation in neuroinflammation.
Methods
Anti-inflammatory and antioxidant effects of α7 nAChR activation were evaluated in an in vitro mouse model of neuroinflammation using lipopolysaccharide (LPS) in primary astrocyte cultures. α7 nAChR anti-inflammatory effects on the NF-κB pathway were evaluated using ELISA, gene expression analysis, immunofluorescence, and western blotting. Antioxidant effect of α7 nAChR activation on expression profiles of canonical Nrf2 target genes was examined by quantitative PCR and western blotting. The role of the Nrf2 pathway in α7 nAChR-mediated anti-inflammatory response was evaluated using Nrf2 knockout astrocytes. Brain ex vivo NF-κB luciferase signals were evaluated after treatment with an α7 nAChR agonist in lipopolysaccharide (LPS)-injected NF-κB luciferase reporter mouse model.
Results
Astrocytes treated with the α7 nAChR partial agonist (GTS21) showed significantly reduced LPS-mediated secretion of inflammatory cytokines and this effect was reversed by the α7 nAChR antagonist methyllycaconitine (MLA) and by knockdown of α7 nAChR expression with a short hairpin RNA. Further, α7 nAChR activation blocked LPS-mediated NF-κB nuclear translocation indicating that the observed anti-inflammatory effect may be mediated through inhibition of the NF-κB pathway. Treatment with GTS21 also upregulated canonical Nrf2 antioxidant genes and proteins suggesting antioxidant properties of α7 nAChR in astrocytes. Using an astrocyte conditioned media approach, we demonstrated reduction in neuronal apoptosis when astrocytes were pretreated with GTS21. Finally, in an in vivo neuroinflammation model using LPS in NF-κB luciferase reporter mice, we demonstrated reduction in LPS-induced NF-κB activity and pro-inflammatory cytokines with GTS21 treatment in brain tissue.
Conclusion
Our results suggest that activating astroglial α7 nAChRs may have a role in neuroprotection by decreasing inflammation and oxidative stress, and therefore could have therapeutic implication for disease modifying treatments of neurodegenerative diseases.