01.12.2012 | Research | Ausgabe 1/2012 Open Access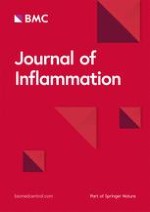 Anti-inflammatory effects of methoxyphenolic compounds on human airway cells
Zeitschrift:
Autoren:

Kenneth R Houser, David K Johnson, Faoud T Ishmael
Wichtige Hinweise
Electronic supplementary material
The online version of this article (doi:
10.​1186/​1476-9255-9-6
) contains supplementary material, which is available to authorized users.
Competing interests
The authors declare that they have no competing interests.
Authors' contributions
KRH carried out all of the studies in the methods section, performed the analysis of collected data and drafted the manuscript. DKJ synthesized diapocynin and co-conceived of the study. FTI conceived of the study, participated in its design and coordination and helped in drafting of the final manuscript. All authors read and approved the final manuscript.
Abstract
Background
The respiratory epithelium plays a central role in the inflammatory response in asthma and other diseases. Methoxyphenolic compounds are purported to be effective anti-inflammatory agents, but their effects on the airway epithelium have not been well characterized.
Methods
Human airway cells were stimulated with TNF-α in the presence or absence of 4-substituted methoxyphenols and resveratrol. The expression of various cytokines was measured by qPCR, ELISAs, and protein arrays. Reactive oxygen species (ROS) production was measured with a reactive fluorescent probe (3',6'-diacetate-2',7'-dichlorofluorescein). Activation of NF-κB was measured by nuclear translocation and phosphorylation. Ribonuclear protein association with mRNA was assessed with a biotin-RNA affinity isolation assay.
Results
Multiple inflammatory mediators were inhibited by methoxyphenols, including: CCL2, CCL5, IL-6, IL-8, ICAM-1, MIF, CXCL1, CXCL10, and Serpin E1. IC50 values were obtained for each compound that showed significant anti-inflammatory activity: diapocynin (20.3 μM), resveratrol (42.7 μM), 2-methoxyhydroquinone (64.3 μM), apocynin (146.6 μM), and 4-amino-2-methoxyphenol (410 μM). The anti-inflammatory activity did not correlate with inhibition of reactive oxygen species production or NF-κB activation. However, methoxyphenols inhibited binding of the RNA-binding protein HuR to mRNA, indicating that they may act post-transcriptionally.
Conclusions
Methoxyphenols demonstrate anti-inflammatory activity in human airway cells. More potent compounds that act via similar mechanisms may have therapeutic potential as novel anti-inflammatory agents.