25.10.2019 | Original Article | Ausgabe 2/2020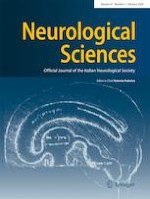 Anti-MAG IgM: differences in antibody tests and correlation with clinical findings
Zeitschrift:
Autoren:

Sabrina Matà, Stefano Ambrosini, Domenica Saccomanno, Tiziana Biagioli, Marinella Carpo, Aldo Amantini, Fabio Giannini, Alessandro Barilaro, Lucia Toscani, Monica Del Mastio, Giacomo Pietro Comi, Sandro Sorbi
Wichtige Hinweise
Publisher's note
Springer Nature remains neutral with regard to jurisdictional claims in published maps and institutional affiliations.
Abstract
Objectives
Anti-myelin-associated glycoprotein (MAG) antibody is associated with clinically heterogeneous polyneuropathies. Our purpose was to compare neuropathy phenotypes identified by different anti-MAG tests' results.
Methods
Cohort study: Sera from 40 neuropathy anti-MAG EIA positive patients were tested for anti-MAG by Western blot (WB), for anti-peripheral nerve myelin (PNM) on monkey nerve by immunofluorescence assay (IFA), and for anti-HNK1 on rat CNS slices by IFA. Anti-sulfatide antibodies, for comparison, were also tested by EIA.
Results
Among 40 anti-MAG EIA positive sera, 85% also had anti-PNM IFA reactivity and 67.5% bind HNK1 on rat CNS. Anti-HNK1 positive patients had the classical predominantly distal acquired demyelinating symmetric (DADS) neuropathy with a benign course, while anti-PNM positive but anti-HNK1 negative patients had predominantly axonal neuropathy with a high frequency of anti-sulfatide reactivity and the worst long-term prognosis. Anti-MAG EIA positive patients without anti-PNM or anti-HNK1 IFA reactivity had a CIDP-like polyneuropathy.
Conclusion
Different methods to test for anti-MAG antibodies identify different clinical and electrophysiological findings, as well as long-term outcome. HNK1 reactivity is the strongest marker of DADS.