01.12.2012 | Research | Ausgabe 1/2012 Open Access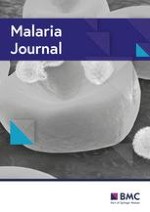 Anti-malarial activity of geldanamycin derivatives in mice infected with
Plasmodium
yoelii
Zeitschrift:
Autoren:

Rubul Mout, Zhi-Dong Xu, Angela K H Wolf, Vincent Jo Davisson, Gotam K Jarori
Wichtige Hinweise
Electronic supplementary material
The online version of this article (doi:
10.​1186/​1475-2875-11-54
) contains supplementary material, which is available to authorized users.
Competing interests
The authors declare that they have no competing interests.
Authors' contributions
RM: Performed all the experiments and analyzed the data. ZDX: Synthesized 17-AAG and 17-PEG-Alkyn-GA. AKHW: Characterized the structure of 17-PEG-Alkyn-GA by NMR. VJD: Conceived the idea of synthesizing 17-PEG-Alkyn-GA, helped in drafting the manuscript. GKJ: Conceived the study, planned the experiments, interpreted the results and wrote manuscript. All authors read and approved the final manuscript.
Abstract
Background
Geldanamycin (GA), a benzoquinone ansamycin antibiotic has been shown in vitro to possess anti-plasmodial activity. Pharmacological activity of this drug is attributed to its ability to inhibit PfHSP90. The parasite growth arrest has been shown to be due to drug-induced blockage of the transition from ring to trophozoite stage. To further evaluate the consequences of this pharmacodyamic feature, the anti-malarial activity of GA analogs with enhanced drug properties in a
Plasmodium
-infected animal model have been evaluated for their capacity to induce clearance of the parasite. In the process, a hypothesis was subsequently tested regarding the susceptibility of the cured animals to malaria reflected in an attenuated parasite load that may be evoked by a protective immune response in the host.
Methods
Six weeks old Swiss mice were infected with a lethal
Plasmodium yoelii
(17XL) strain. On appearance of clinical symptoms of malaria, these animals were treated with two different GA derivatives and the parasite load was monitored over 15-16 days. Drug-treated animals cured of the parasite were then re-challenged with a lethal dose of
P. yoelii
17XL. Serum samples from GA cured mice that were re-challenged with
P. yoelii
17XL were examined for the presence of antibodies against the parasite proteins using western blot analysis.
Results
Treatment of
P. yoelii
17XL infected mice with GA derivatives showed slow recovery from clinical symptoms of the disease. Blood smears from drug treated mice indicated a dominance of ring stage parasites when compared to controls. Although,
P. yoelii
preferentially invades normocytes (mature rbcs), in drug-treated animals there was an increased invasion of reticulocytes. Cured animals exhibited robust protection against subsequent infection and serum samples from these animals showed antibodies against a vast majority of parasite proteins.
Conclusions
Treatment with GA derivatives blocked the transition from ring to trophozoite stage presumably by the inhibition of HSP90 associated functions. Persistence of parasite in ring stage leads to robust humoral immune response as well as a shift in invasion specificity from normocytes to reticulocyte. It is likely that the treatment with the water-soluble GA derivative creates an attenuated state (less virulent with altered invasion specificity) that persists in the host system, allowing it to mount a robust immune response.