01.11.2018 | Original Article | Ausgabe 1/2018 Open Access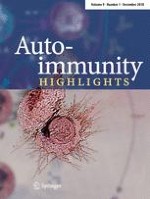 Anti-phospholipid IgG antibodies detected by line immunoassay differentiate patients with anti-phospholipid syndrome and other autoimmune diseases
Zeitschrift:
Autoren:

Cecilia Nalli, Valentina Somma, Laura Andreoli, Thomas Büttner, Peter Schierack, Michael Mahler, Dirk Roggenbuck, Angela Tincani
Wichtige Hinweise
Cecilia Nalli and Valentina Somma shared first authorship.
Dirk Roggenbuck and Angela Tincani shared senior authorship.
Publisher's Note
Springer Nature remains neutral with regard to jurisdictional claims in published maps and institutional affiliations.
Abstract
Purpose
Anti-phospholipid antibodies (aPL) analyzed by line immunoassay (LIA) can recognize beta2-glycoprotein I (β2GPI) domain 1 (D1) epitopes depending on β2GPI binding to distinct phospholipids. The aPL LIA was compared with consensus ELISA to investigate whether both techniques can discriminate anti-phospholipid syndrome (APS) patients from aPL-positive, systemic autoimmune rheumatic diseases (SARD) patients without clinical symptoms of APS and controls.
Methods
Thirty-four APS patients (14 arterial/venous thrombosis, 16 pregnancy morbidity, and 4 both), 41 patients with SARD lacking clinical APS criteria but demonstrating positivity for anti-β2GPI (aβ2GPI) IgG, and 20 healthy subjects (HS) were tested for aPL to cardiolipin (aCL), phosphatidic acid, phosphatidylcholine, phosphatidylethanolamine, phosphatidylglycerol (aPG), phosphatidylinositol, phosphatidylserine, β2GPI, prothrombin, and annexin V by LIA. Samples were also tested for aCL, aβ2GPI, aβ2GPI-domain 1 (aD1), and aβ2GPI-domains 4–5 (aD4–5) by ELISA and for lupus anti-coagulant.
Results
Comparison of LIA with ELISA revealed a good agreement for the consensus criteria aPL aβ2GPI and aCL IgG (kappa = 0.69, 0.68, respectively) and a moderate agreement for IgM (kappa = 0.52, 0.49, respectively). Regarding ELISA, aD1/aD4–5 demonstrated the best performance of differentiating APS from asymptomatic SARD [area under the curve (AUC): 0.76]. aPG IgG had the best performance by LIA (AUC: 0.72) not significantly different from aD1/aD4–5. There was a good agreement for aPG IgG with aD1/aD4–5 (kappa = 0.71).
Conclusions
aD1/aD4–5 (ELISA) and aPG IgG (LIA) differentiate APS from SARD patients. PG appears to interact with β2GPI of APS patients and exposes D1 thereof for disease-specific aPL binding in LIA.