01.12.2018 | Research | Ausgabe 1/2018 Open Access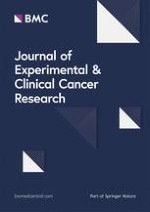 Anti-tumor effects of ONC201 in combination with VEGF-inhibitors significantly impacts colorectal cancer growth and survival in vivo through complementary non-overlapping mechanisms
Zeitschrift:
Autoren:

Jessica Wagner, C. Leah Kline, Lanlan Zhou, Vladimir Khazak, Wafik S. El-Deiry
Wichtige Hinweise
Electronic supplementary material
Abstract
Background
Small molecule ONC201 is an investigational anti-tumor agent that upregulates intra-tumoral TRAIL expression and the integrated stress response pathway. A Phase I clinical trial using ONC201 therapy in advanced cancer patients has been completed and the drug has progressed into Phase II trials in several cancer types. Colorectal cancer (CRC) remains one of the leading causes of cancer worldwide and metastatic disease has a poor prognosis. Clinical trials in CRC and other tumor types have demonstrated that therapeutics targeting the vascular endothelial growth factor (VEGF) pathway, such as bevacizumab, are effective in combination with certain chemotherapeutic agents.
Methods
We investigated the potential combination of VEGF inhibitors such as bevacizumab and its murine-counterpart; along with other anti-angiogenic agents and ONC201 in both CRC xenograft and patient-derived xenograft (PDX) models. We utilized non-invasive imaging and immunohistochemistry to determine potential mechanisms of action.
Results
Our results demonstrate significant tumor regression or complete tumor ablation in human xenografts with the combination of ONC201 with bevacizumab, and in syngeneic MC38 colorectal cancer xenografts using a murine VEGF-A inhibitor. Imaging demonstrated the impact of this combination on decreasing tumor growth and tumor metastasis. Our results indicate that ONC201 and anti-angiogenic agents act through distinct mechanisms while increasing tumor cell death and inhibiting proliferation.
Conclusion
With the use of both a murine VEGF inhibitor in syngeneic models, and bevacizumab in human cell line-derived xenografts, we demonstrate that ONC201 in combination with anti-angiogenic therapies such as bevacizumab represents a promising approach for further testing in the clinic for the treatment of CRC.