01.12.2016 | Case report | Ausgabe 1/2016 Open Access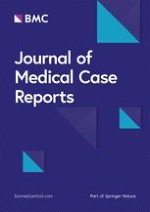 Anti-U3 ribonucleoprotein antibody-positive inflammatory myopathy: a case report
Zeitschrift:
Autoren:

Ken-ya Murata, Kumiko Nakatani, Mika Yananeki, Ichiro Nakanishi, Hidefumi Ito
Abstract
Background
The discovery of myositis-specific autoantibodies and myositis-associated autoantibodies has led to a new serological classification. Human U3 RNP, which consists of the U3 small nucleolar RNA and anti-U3 RNP antibody, is directed against one of the subunits. Anti-U3 RNP antibodies have been detected in 5–8 % of patients with systemic sclerosis, and antibody-positive patients with systemic sclerosis have shown more frequent skeletal muscle involvement than that of antibody-negative patients with systemic sclerosis.
Case presentation
A 74-year-old Japanese man positive for anti-U3 RNP antibody was referred to our hospital because of gait disturbance and dysphagia. His serum myoglobin and creatine kinase levels were elevated, and myopathic changes were observed in his proximal legs by needle electromyography. A muscle biopsy was performed at the quadriceps femoris muscle, which showed high signal intensity on fat-suppressed and T2-weighted magnetic resonance images. The patient was diagnosed with probable polymyositis because CD8-positive lymphocytes had invaded only the endomysium and not into the muscle fibers. Severe proliferation of the interstitial connective tissue and edematous changes were observed. Oral prednisolone therapy was started, and the patient's muscle weakness of the proximal limbs improved remarkably within 1 month. Dysphagia caused by incomplete function of the cricopharyngeal muscle persisted for 5 years.
Conclusions
Our findings indicate that mild muscle weakness with steroid-resistant dysphagia may be a clinical feature of patients with anti-U3 RNP antibody-positive inflammatory myopathy.