01.12.2018 | Research article | Ausgabe 1/2018 Open Access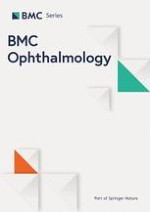 Anti-vascular endothelial growth factor for neovascular age-related macular degeneration: a meta-analysis of randomized controlled trials
Zeitschrift:
Autoren:

Chu Luan Nguyen, Lawrence J. Oh, Eugene Wong, Joe Wei, Michael Chilov
Abbreviations
AMD
Age-related macular degeneration
BCVA
Best-corrected visual acuity
CMT
Central macular thickness
ICTRP
International Clinical Trials Registry Platform
OCT
Optical Coherence Tomography
PRISMA
Preferred Reporting Items for Systematic Reviews and Meta-Analyses
RCT
Randomized clinical trial
VEGF
Vascular endothelial growth factor
Background
Current mainstay treatment for neovascular age-related macular degeneration (nAMD) is intravitreal injections of anti-vascular endothelial growth factor (anti-VEGF) agents, which have been demonstrated to be effective at reducing fluid in the retina and regression of the new vessels [
1
–
4
].
The first Food and Drug Administration (FDA) approved anti-VEGF agent, pegaptanib, is not currently used because of the better visual outcomes from ranibizumab (Lucentis, Genentech Inc.), bevacizumab (Avastin, Genentech Inc.), and aflibercept (Eylea, Regeneron Pharmaceuticals, Inc.) [
4
–
7
]. Ranibizumab was FDA approved for the treatment of nAMD in 2006. Its efficacy and safety were demonstrated in two major trials, ANCHOR and MARINA [
8
–
10
]. Bevacizumab is used off-label to treat nAMD. Multiple trials have demonstrated comparable efficacy and safety between ranibizumab and bevacizumab [
4
,
11
–
24
]. Aflibercept is a newer agent, with FDA approval in 2011, for the treatment of nAMD. It has been demonstrated to have comparable efficacy and safety compared to ranibizumab in the VIEW1 and VIEW2 trials [
5
,
25
–
27
]. Similar to aflibercept, is conbercept (Chengdu Kanghong Biotech Co. Ltd.) which was licensed in China in 2013 and there is a single reported phase 2 trial [
28
].
To the author's knowledge, existing meta-analyses of randomized controlled trials (RCTs) comparing the efficacy and safety of anti-VEGF agents in patients with nAMD, have included up to 12 trials in their comparisons [
4
,
5
,
20
,
29
–
31
]. Such meta-analyses have been limited to the types of anti-VEGF agents evaluated. As new trials and longer-term results are available, synthesis and meta-analysis of current data will assist ophthalmologists and patients when they decide among treatment options. The objectives were to evaluate the relative efficacy and safety of all intravitreal anti-VEGF agents that are available compared with another treatment for nAMD, and in particular when compared to each other.
Methods
Inclusion and exclusion criteria
Articles were considered for inclusion in the meta-analysis if the study design was a RCT, the population was nAMD, and the intervention was anti-VEGF treatment (pegaptanib, ranibizumab, bevacizumab, aflibercept or conbercept) compared to another treatment or each other. All trials followed patients for at least 1 year, and outcomes at two years of treatment were also included when available. The analysis was limited to 2 years of followup given that the individual RCTs had limited followup.
Studies in which different doses of one anti-VEGF agent were compared with each other, with no control or comparator were excluded. Studies in which anti-VEGF agents were used in combination with other treatments were excluded. Conference abstracts and full reports without raw data available, letters, reviews, duplicate publications and studies not available in English were excluded.
Search strategy to identify eligible studies
Types of effect estimates
Efficacy was assessed by the mean change in best corrected visual acuity (BCVA) and in central macular thickness (CMT) from baseline at 1 and 2 years of follow up. Safety was assessed based on the proportions of patients with death, arteriothrombotic and venous thrombotic events, and at least one serious systemic adverse event at 1 and 2 years of follow up. This study conducted meta-analyses of results by anti-VEGF agent, combining different doses and regimens of the same agent evaluated in the individual trials.
Selection of studies, data extraction and qualitative summary
Two review authors independently assessed the titles and abstracts found through the electronic searches (C.L.N. and L.J.O). Disagreement was settled with a third reviewer (E.W.). Two review authors independently extracted study characteristics, such as information on study methods, participants, interventions, efficacy and safety outcomes, and funding resources. The review authors contacted the authors of RCTs for data on outcomes in the individual trials when the information was not available in published form. One author entered data into Review Manager (RevMan, version 5.3), and a second author verified the data entry at a later date. Two review authors independently assessed the study quality. With the RCTs the authors used the risk of bias tool recommended by the Cochrane Collaboration as per methods outlined in the
Cochrane Handbook for Systematic Reviews of Interventions
[
32
]. Potential sources of bias in the following different domains were critically assessed: sequence generation, allocation concealment, blinding of participants, personnel and outcome assessors, incomplete outcome data, selective outcome reporting, and other sources of bias. For each domain, the authors judged whether the risk of bias of that domain was high, low, or unclear. Authors of RCTs were contacted for information to adequately assess a study.
Statistical analysis
Quantitative data were recorded using Review Manager (RevMan, version 5.3). For continuous variables, the weighted mean difference was measured. For dichotomous variables, the risk ratios (RR) were measured. These were reported with a 95% confidence interval (CI), and
P
< 0.05 was statistically significant on the test for overall effect. Statistical heterogeneity was assessed based on the Chi
2
test, I
2
statistic and the overlap of CIs in the forest plots. A Chi
2
P
value of < 0.05 had significant statistical heterogeneity and an I
2
statistic of greater than 50% or more had substantial statistical heterogeneity. Clinical and methodological heterogeneity among studies was assessed by comparing the study populations, interventions, and methods of each study [
33
]. A random-effects model was utilized if there was heterogeneity between studies. Otherwise, a fixed effects model was used. The methodology used for this meta-analysis was adapted from previous meta-analyses for consistency [
4
,
20
].
Sensitivity analysis
Sensitivity analyses were planned to be performed to assess the impact of studies graded as having a high risk of bias on any parameter or industry funding. Following an assessment of the data collected, it was determined that these analyses were not needed because studies within each meta-analysis did not differ based on these factors.
Results
Discussion
The review is limited in that publication bias could not be fully eliminated. Comparative studies of ranibizumab, bevacizumab, and aflibercept as used in current clinical practice for nAMD will be useful to demonstrate whether the frequency of injection and the long-term costs associated with use of each anti-VEGF agent are different. Also, larger trials would be needed to provide precise estimates of adverse events, as the available clinical trial sample sizes may not have been large enough to detect rare adverse events.
Conclusions
The results of this review indicate effectiveness of anti-VEGF agents in terms of the stability or improvement in VA after 1 and 2 years of treatment. Bevacizumab and ranibizumab had equivalent efficacy for BCVA, while ranibizumab had greater reduction in CMT and less rate of serious systemic adverse events. Aflibercept and ranibizumab had comparable efficacy for BCVA and CMT. The available information on adverse effects with each drug does not suggest a higher incidence of vision-threatening complications with intravitreal anti-VEGF injection compared with control interventions. However, clinical trial data may not be sufficiently powered to detect rare safety outcomes. As RCTs have found little difference in outcomes between ranibizumab, bevacizumab, and aflibercept, a challenge for ophthalmologists and patients with nAMD has been the choice of anti-VEGF agent. This meta-analysis provides information to balance the comparable effects on vision and risk of adverse events between anti-VEGF agents for treatment of nAMD.
Availability of data and materials
The datasets used and/or analysed during the current study are available from the corresponding author on reasonable request.
Ethics approval and consent to participate
Not applicable.
Competing interests
The authors declare that they have no competing interests.
Publisher's Note
Springer Nature remains neutral with regard to jurisdictional claims in published maps and institutional affiliations.
Open Access
This article is distributed under the terms of the Creative Commons Attribution 4.0 International License (
http://​creativecommons.​org/​licenses/​by/​4.​0/​
), which permits unrestricted use, distribution, and reproduction in any medium, provided you give appropriate credit to the original author(s) and the source, provide a link to the Creative Commons license, and indicate if changes were made. The Creative Commons Public Domain Dedication waiver (
http://​creativecommons.​org/​publicdomain/​zero/​1.​0/​
) applies to the data made available in this article, unless otherwise stated.
Appendix 1
Search Strategy
Full literature search strategy of databases
#1 MeSH descriptor Macular Degeneration
#2 MeSH descriptor Retinal Degeneration
#3 MeSH descriptor Neovascularization, pathologic
#4 ((macul* OR retina* OR choroid*:TI) AND (degener* OR neovasc*:TI))
#5 ((macul* OR retina* OR choroid*:AB) AND (degener* OR neovasc*:AB))
#6 maculopath*
#7 (1 OR 2 OR 3 OR 4 OR 5 OR 6)
#8 MeSH descriptor Angiogenesis Inhibitors
#9 MeSH descriptor Angiogenesis Inducing Agents
#10 MeSH descriptor Endothelial Growth Factors
#11 macugen or pegapanib or lucentis or rhufab or rhu fab or ranibizumab or bevacizumab or aflibercept or conbercept
#12 angiogen* or antiangiogen* or neovasculari* or vasculari*
#13 anti-vegf* or anti next vegf
#14 endothelial near growth near factor*
#15 (8 OR 9 OR 10 OR 11 OR 12 OR 13 OR 14)
#16 (7 AND 15)
1. randomized controlled trial.pt
2. (randomized or randomised).Ab,ti
3. placebo.ab,ti.
4. dt.fs.
5. randomly.ab,ti.
6. trial.ab,ti.
7. groups.ab,ti.
8. or/1–7
9. exp. animals/
10. exp. humans/
11. 9 not (9 and 10)
12. 8 not 11
13. exp. macular degeneration/
14. exp. retinal degeneration/
15. exp. retinal neovascularization/
16. exp. choroidal neovascularization/
17. exp. macula lutea/
18. maculopath$.tw.
19. ((macul$ or retina$ or choroid$) adj3 degener$).tw.
20. ((macul$ or retina$ or choroid$) adj3 neovasc$).tw.
21. (macula$ adj2 lutea).tw.
22. (AMD or ARMD or CNV).tw.
23. or/13–22
24. exp. angiogenesis inhibitors/
25. angiogenesis inducing agents/
26. endothelial growth factors/
27. exp. vascular endothelial growth factors/
28. (anti adj2 VEGF$).tw.
29. (endothelial adj2 growth adj2 factor$).tw.
30. (anti adj1 angiogen$).tw.
31. (macugen$ or pegaptanib$ or lucentis$ or rhufab$ or ranibizumab$ or bevacizumab$ or avastin$ or aflibercept$ or conbercept$).tw.
32. VEGF TRAP$.tw.
33. or/24–32
34. 23 and 33
35. 12 and 34
The search filter for trials of the MEDLINE strategy is adapted from the published paper by Glanville (Glanville 2006).
1. exp. randomized controlled trial/
2. exp. randomization/
3. exp. double blind procedure/
4. exp. single blind procedure/
5. random$.tw.
6. or/1–5
(animal or animal experiment).Sh
8. human.sh.
9. 7 and 8
10. 7 not 9
11. 6 not 10
12. exp. clinical trial/
13. (clin$ adj3 trial$).tw.
14. ((singl$ or doubl$ or trebl$ or tripl$) adj3 (blind$ or mask$)).tw.
15. exp. placebo/
16. placebo$.tw.
17. random$.tw.
18. exp. experimental design/
19. exp. crossover procedure/
20. exp. control group/
21. exp. latin square design/
22. or/12–21
23. 22 not 10
24. 23 not 11
25. exp. comparative study/
26. exp. evaluation/
27. exp. prospective study/
28. (control$ or prospectiv$ or volunteer$).Tw.
29. or/25–28
30. 29 not 10
31. 30 not (11 or 23)
32. 11 or 24 or 31
33. exp. retina macula degeneration/
34. exp. retinal degeneration/
35. exp. subretinal neovascularization/
36. maculopath$.tw.
37. ((macul$ or retina$ or choroid$) adj3 degener$).tw.
38. ((macul$ or retina$ or choroid$) adj3 neovasc$).tw.
39. (macula$ adj2 lutea).tw.
40. (AMD or ARMD or CNV).tw.
41. or/33–40
42. angiogenesis/
43. exp. angiogenesis inhibitors/
44. angiogenic factor/
45. endothelial cell growth factor/
46. monoclonal antibody/
47. vasculotropin/
48. (anti adj2 VEGF$).tw.
49. (endothelial adj2 growth adj2 factor$).tw.
50. (anti adj1 angiogen$).tw.
51. (macugen$ or pegaptanib$ or lucentis$ or rhufab$ or ranibizumab$ or bevacizumab$ or avastin$ or aflibercept$ or conbercept$).tw.
52. VEGF TRAP$.tw.
53. or/42–52
54. 41 and 53
55. 32 and 54
meta
Register of Controlled Trials search strategy
(macular degeneration or AMD or ARMD) and (macugen or pegaptanib or lucentis or rhufab or ranibizumab or bevacizumab or avastin or aflibercept or conbercept)
(Macular Degeneration OR AMD OR ARMD) AND (Macugen OR Pegaptanib OR Lucentis OR rhufab OR ranibizumab OR bevacizumab OR avastin OR aflibercept or conbercept)
Macular Degeneration OR AMD OR ARMD = Condition AND Macugen OR Pegaptanib OR Lucentis OR rhufab OR ranibizumab OR bevacizumab OR avastin OR aflibercept OR conbercept = Intervention
×
×
×
×
×
×