01.12.2017 | Research article | Ausgabe 1/2017 Open Access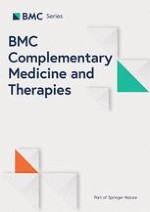 Antibacterial activity of the stem bark of
Tieghemella Heckelii

Pierre ex. A Chev against methicillin-resistant

Staphylococcus aureus
Zeitschrift:
Autoren:

B. G. Kipre, N.K. Guessennd, M.W. Koné, V. Gbonon, J. K. Coulibaly, M. Dosso
Abstract
Background
Tieghemella heckelii
(Sapotaceae) is a medicinal plant used in Africa, particularly in Côte d'Ivoire for treating various diseases including infections. Identification of prospective antibacterial compounds from stem bark of this plant as a result of its medicinal virtue, led to screening activity against methicillin resistant bacteria.
Methods
Six extracts (hexane, chloroform, ethyl acetate, ethanol, methanol and sterile distilled water) were prepared and tested on methicillin resistant
Staphylococcus aureus
(MRSA) using broth microdilution method for activity assessment. From this experiment, the minimum inhibitory concentrations (MICs) and minimum bactericidal concentrations (MBCs) of the plant extracts were determined in sterile 96-well microplates in order to search for both bacteriostatic and bactericidal effects. Afterwards, data analysis was performed using GraphPad Prism5 software (One-way ANOVA and Turkey Multiple Comparison test). The results were then presented as Mean ± SD for experiment repeated three times.
Results
Four extracts (ethyl acetate, methanol, ethanol and sterile distilled water) showed credible potency, with strong, significant, and moderate growth inhibition of the MRSA tested. The MIC values which varied from 45 μg/mL to 97 μg/mL according to microbial phenotype, resolutely established the activity of the plant extracts. Additionally, the MBC values which varied, depending on the type of bacteria strain, revealed the bacteriostatic and bactericidal effects of the active extracts against Methicillin-resistant
Staphylococcus aureus
.
Conclusion
The present study is a confirmation of the therapeutic potential of
Tieghemella heckelii
and its promising contribution to the discovery of a novel antibacterial drug pertaining to these resistant strains.