01.12.2017 | Research article | Ausgabe 1/2017 Open Access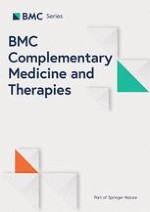 Antibacterial and antibiotic resistance modulatory activities of leaves and bark extracts of
Recinodindron heudelotii

(Euphorbiaceae) against multidrug-resistant Gram-negative bacteria
Zeitschrift:
Autoren:

Aimé Gabriel Fankam, Jules-Roger Kuiate, Victor Kuete
Abstract
Background
Recinodindron heudelotii
(Euphorbiaceae) is a plant used in Africa, particularly in Cameroon to treat various ailments including bacterial infections. In this study, we evaluated the extracts of the leaves (RHL) and bark (RHB) of
R. heudelotii
for their antibacterial and antibiotic resistance modulating activities against 29 Gram-negative bacteria, including multidrug-resistant (MDR) phenotypes.
Methods
The broth micro-dilution assay was used to evaluate the antibacterial activity, and the antibiotic resistance modulating effects of the plant extracts.
Results
RHL displayed the most important spectrum of activity with minimal inhibitory concentrations
(
MICs) values ranging from 256 to 1024 μg/mL against 75.86% of the 29 tested bacteria strains while RHB was not active. RHL also showed killing effects with minimal bactericidal concentrations (MBCs) ranging from 256 to 1024 μg/mL. The activities of tetracycline and kanamycin associated with RHL were improved on 88.89% and 77.78% of the tested MDR bacteria, at MIC/2 at MIC/4 respectively, with 2 to 16-folds decreasing of MIC. This suggests the antibiotic resistance modulating effects of these antibiotics.
Conclusion
The present study provides data indicating a possible use of the leaves extract of
Recinodindron heudelotii
alone or in association with common antibiotics in the fight against bacterial infections including those involving MDR bacteria.