23.01.2017 | Rhinology | Ausgabe 4/2017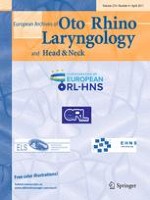 Antibiofilm effects of topical corticosteroids and intranasal saline in patients with chronic rhinosinusitis with nasal polyps depend on bacterial species and their biofilm-forming capacity
Zeitschrift:
Autoren:

Ivana Cirkovic, Bojan Pavlovic, Dragana D. Bozic, Ana Jotic, Ljubica Bakic, Jovica Milovanovic
Wichtige Hinweise
I. Cirkovic and B. Pavlovic contributed equally to this work.
Abstract
Microbial biofilms have been implicated in the pathogenesis of chronic rhinosinusitis with nasal polyposis (CRSwNP). Intranasal application of corticosteroids and saline is a reliable option for their management. The aim of our study was to evaluate
in vitro
antibiofilm effects of corticosteroids and isotonic and hypertonic nasal saline in CRSwNP patients. The sinus mucosal specimens were harvested from the ethmoid cavity of 48 patients with CRSwNP and further subjected to hematoxylin–eosin staining and microbiology analysis. The biofilm-forming capacity of isolated bacterial strains was detected by microtiter-plate method and the effects of therapeutic doses of mometasone, fluticasone, isotonic and hypertonic saline on biofilm production were investigated. Bacterial strains were isolated in 42 (87.5%) patients: one organism in 34 (80.9%) and two organisms in 8 (19.1%).
Staphylococcus epidermidis
(34%) and
Staphylococcus aureus
(28%) were the most prevalent bacteria in biofilms of CRSwNP patients. Corticosteroids and saline solutions significantly reduced biofilm formation (
p
 < 0.01 and
p
 < 0.05, respectively) with better efficacy of fluticasone and isotonic nasal saline. Treatment with fluticasone, mometasone, isotonic and hypertonic nasal saline completely prevented biofilm production in 66, 50, 84 and 38% of bacterial strains, respectively. The most significant density reduction was observed in biofilm formed by
Staphylococcus aureus, Pseudomonas aeruginosa
and
Streptococcus pneumoniae
compared to other bacterial species (
p
 < 0.01,
p
 < 0.05,
p
 < 0.05, respectively). The antibiofilm effects of corticosteroids and saline solutions also greatly depended on bacterial biomass (
p
 < 0.05), with the most significant effect on high compared to small amount of formed biofilm. The topical steroids and nasal saline are shown to be potent antibiofilm agents in patients with CRSwNP. The effects of tested compounds depend on bacterial species and volume of formed biofilm.