09.11.2017 | Original Article | Ausgabe 2/2018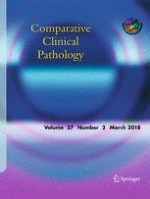 Antidiabetic activity and free radicals modulatory potentials of saponin-rich extract of
Cochlospermum planchonii

(Hook Fx. Planch) root in vitro
Zeitschrift:
Autoren:

Anofi O. T. Ashafa, Mikhail O. Nafiu
Abstract
Research into the pharmacological potentials of saponins is attracting attention. This study probed the antidiabetic and free radical scavenging potentials of saponin extract from
Cochlospermum planchonii
root (CPS) in vitro. The antidiabetic activity was determined by the CPS inhibition of α-glucosidase and α-amylase activities while the free radical scavenging capacity was demonstrated against two, 2-diphenyl-1-picrylhydrazyl (DPPH) and hydroxyl (OH) radicals. The results illustrated that CPS robustly inhibited α-glucosidase and α-amylase (IC
50
values = 2.89 and 0.40 mg/mL), respectively as compared with acarbose. Both enzymes were uncompetitively inhibited as indicated by the decreased Km and Vmax values when compared with the respective control. Also, CPS displayed superior DPPH and OH radicals quenching power (IC
50
values = 1.89 and 1.11 mg/mL), respectively compared with silymarin and vitamin C. Indication from the results suggests that CPS demonstrated superior inhibition of α-glucosidase and α-amylase but not a good potential source of alternative oral hypoglycemic drug.