01.12.2018 | Research article | Ausgabe 1/2018 Open Access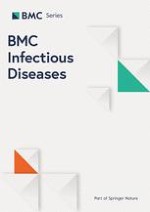 Antimicrobial resistance of
Neisseria gonorrhoeae

in Germany: low levels of cephalosporin resistance, but high azithromycin resistance
Zeitschrift:
Autoren:

Susanne Buder, Sandra Dudareva, Klaus Jansen, Anna Loenenbach, Sergejs Nikisins, Andrea Sailer, Eva Guhl, Peter K. Kohl, Viviane Bremer, GORENET study group
Abstract
Background
The widespread antimicrobial resistance of
Neisseria gonorrhoeae
is a serious problem for the treatment and control of gonorrhoea. Many of the previously effective therapeutic agents are no longer viable. Because
N. gonorrhoeae
infections are not reportable in Germany, only limited data on disease epidemiology and antimicrobial susceptibility patterns are available. The Gonococcal Resistance Network (GORENET) is a surveillance project to monitor trends in the antimicrobial susceptibility of
N. gonorrhoeae
in Germany in order to guide treatment algorithms and target future prevention strategies.
Methods
Between April 2014 and December 2015, data on patient-related information were collected from laboratories nationwide, and susceptibility testing was performed on 537
N. gonorrhoeae
isolates forwarded from the network laboratories to the Conciliar Laboratory for gonococci. Susceptibility results for cefixime, ceftriaxone, azithromycin, ciprofloxacin and penicillin were defined according to EUCAST 4.0 standards. Percentages, medians and interquartile ranges (IQR) were calculated.
Results
Altogether, 90% of isolates were from men. The median age was 32 (IQR 25–44) years for men and 25 (IQR 22–40) years for women (
p
-value < 0.001). The most frequently tested materials among men were urethral (96.1%) and rectal swabs (1.7%), and among women, it was mainly endocervical and vaginal swabs (84.3%). None of the isolates were resistant to ceftriaxone. Furthermore, 1.9% (in 2014) and 1.4% (in 2015) of the isolates were resistant to cefixime, 11.9% and 9.8% showed resistance against azithromycin, 72.0% and 58.3% were resistant to ciprofloxacin, and 29.1% and 18.8% were resistant to penicillin
.
Conclusions
Resistance to ceftriaxone was not detected, and the percentage of isolates with resistance to cefixime was low, whereas azithromycin resistance showed high levels during the observation period. The rates of ciprofloxacin resistance and penicillin resistance were very high across Germany. Continued surveillance of antimicrobial drug susceptibilities for
N. gonorrhoeae
remains highly important to ensure efficient disease management.