19.09.2019 | Original Research | Ausgabe 4/2019 Open Access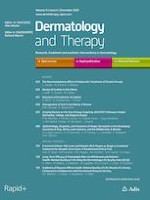 Antimicrobial Susceptibility, Biotypes and Phylotypes of Clinical
Cutibacterium

(Formerly

Propionibacterium

)

acnes

Strains Isolated from Acne Patients: An Observational Study
Zeitschrift:
Autoren:

Nanxue Zhang, Ruoyue Yuan, Kevin Z. Xin, Zhong Lu, Ying Ma
Wichtige Hinweise
Nanxue Zhang and Ruoyue Yuan contributed equally to this work.
Enhanced Digital Features
Abstract
Introduction
The aim of this study was to investigate the distribution of antimicrobial susceptibility, biotypes and phylotypes of clinical
Cutibacterium acnes
(
C. acnes
, formerly
Propionibacterium acnes
) isolates as well as the relationship among demographic factors,
C. acnes
biotypes and phylotypes.
Methods
Cutibacterium acnes
was collected from the skin lesions of acne patients who visited the dermatologic department of Huashan Hospital in Shanghai from October 2016 to March 2017. The agar dilution method was conducted to determine the minimum inhibitory concentrations (MICs) of
C. acnes
, the fermentation test to identify biotypes and then multiplex touchdown polymerase chain reaction (PCR) to identify phylotypes.
Results
Of the 63
C. acnes
strains we isolated, 18 (28.6%), 31 (49.2%) and 4 (6.3%) strains were resistant to clindamycin, erythromycin and moxifloxacin, respectively; no strains were resistant to tetracycline, minocycline, fusidic acid or β-lactam, while metronidazole was completely resisted; 3 strains showed multidrug resistance (MDR). Biotype III (BIII) was the major biotype (50.8%) followed by BI and BV (both 15.9%), BII (12.7%) and lastly BIV (4.8%). IA
1
was the predominant phylotype (71.4%) followed by IA
2
(19.0%), II (4.8%), IB (3.2%) and IC (1.6%), while III was not detected. Significant differences were observed in the severity of disease: different degrees of acne severity reflected different biotype and phylotype distributions, and the biotype distribution of mild acne was different from that of moderate acne; the phylotype distribution of moderate acne varies from that of severe acne, too. Additionally, there was no significant difference in the distribution of biotypes or phylotypes between resistant and susceptible strains.
Conclusion
Erythromycin and clindamycin resistances are the most common in clinical
C. acnes
strains; BIII is the predominant biotype and IA
1
is the major phylotype of
C. acnes
, which are mainly related to disease severity.