01.12.2016 | Review | Ausgabe 1/2016 Open Access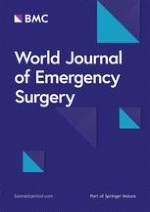 Antimicrobials: a global alliance for optimizing their rational use in intra-abdominal infections (AGORA)
Zeitschrift:
Autoren:

Massimo Sartelli, Dieter G. Weber, Etienne Ruppé, Matteo Bassetti, Brian J. Wright, Luca Ansaloni, Fausto Catena, Federico Coccolini, Fikri M. Abu-Zidan, Raul Coimbra, Ernest E. Moore, Frederick A. Moore, Ronald V. Maier, Jan J. De Waele, Andrew W. Kirkpatrick, Ewen A. Griffiths, Christian Eckmann, Adrian J. Brink, John E. Mazuski, Addison K. May, Rob G. Sawyer, Dominik Mertz, Philippe Montravers, Anand Kumar, Jason A. Roberts, Jean-Louis Vincent, Richard R. Watkins, Warren Lowman, Brad Spellberg, Iain J. Abbott, Abdulrashid Kayode Adesunkanmi, Sara Al-Dahir, Majdi N. Al-Hasan, Ferdinando Agresta, Asma A. Althani, Shamshul Ansari, Rashid Ansumana, Goran Augustin, Miklosh Bala, Zsolt J. Balogh, Oussama Baraket, Aneel Bhangu, Marcelo A. Beltrán, Michael Bernhard, Walter L. Biffl, Marja A. Boermeester, Stephen M. Brecher, Jill R. Cherry-Bukowiec, Otmar R. Buyne, Miguel A. Cainzos, Kelly A. Cairns, Adrian Camacho-Ortiz, Sujith J. Chandy, Asri Che Jusoh, Alain Chichom-Mefire, Caroline Colijn, Francesco Corcione, Yunfeng Cui, Daniel Curcio, Samir Delibegovic, Zaza Demetrashvili, Belinda De Simone, Sameer Dhingra, José J. Diaz, Isidoro Di Carlo, Angel Dillip, Salomone Di Saverio, Michael P. Doyle, Gereltuya Dorj, Agron Dogjani, Hervé Dupont, Soumitra R. Eachempati, Mushira Abdulaziz Enani, Valery N. Egiev, Mutasim M. Elmangory, Paula Ferrada, Joseph R. Fitchett, Gustavo P. Fraga, Nathalie Guessennd, Helen Giamarellou, Wagih Ghnnam, George Gkiokas, Staphanie R. Goldberg, Carlos Augusto Gomes, Harumi Gomi, Manuel Guzmán-Blanco, Mainul Haque, Sonja Hansen, Andreas Hecker, Wolfgang R. Heizmann, Torsten Herzog, Adrien Montcho Hodonou, Suk-Kyung Hong, Reinhold Kafka-Ritsch, Lewis J. Kaplan, Garima Kapoor, Aleksandar Karamarkovic, Martin G. Kees, Jakub Kenig, Ronald Kiguba, Peter K. Kim, Yoram Kluger, Vladimir Khokha, Kaoru Koike, Kenneth Y. Y. Kok, Victory Kong, Matthew C. Knox, Kenji Inaba, Arda Isik, Katia Iskandar, Rao R. Ivatury, Maurizio Labbate, Francesco M. Labricciosa, Pierre-François Laterre, Rifat Latifi, Jae Gil Lee, Young Ran Lee, Marc Leone, Ari Leppaniemi, Yousheng Li, Stephen Y. Liang, Tonny Loho, Marc Maegele, Sydney Malama, Hany E. Marei, Ignacio Martin-Loeches, Sanjay Marwah, Amos Massele, Michael McFarlane, Renato Bessa Melo, Ionut Negoi, David P. Nicolau, Carl Erik Nord, Richard Ofori-Asenso, AbdelKarim H. Omari, Carlos A. Ordonez, Mouaqit Ouadii, Gerson Alves Pereira Júnior, Diego Piazza, Guntars Pupelis, Timothy Miles Rawson, Miran Rems, Sandro Rizoli, Claudio Rocha, Boris Sakakhushev, Miguel Sanchez-Garcia, Norio Sato, Helmut A. Segovia Lohse, Gabriele Sganga, Boonying Siribumrungwong, Vishal G. Shelat, Kjetil Soreide, Rodolfo Soto, Peep Talving, Jonathan V. Tilsed, Jean-Francois Timsit, Gabriel Trueba, Ngo Tat Trung, Jan Ulrych, Harry van Goor, Andras Vereczkei, Ravinder S. Vohra, Imtiaz Wani, Waldemar Uhl, Yonghong Xiao, Kuo-Ching Yuan, Sanoop K. Zachariah, Jean-Ralph Zahar, Tanya L. Zakrison, Antonio Corcione, Rita M. Melotti, Claudio Viscoli, Perluigi Viale
Abstract
Intra-abdominal infections (IAI) are an important cause of morbidity and are frequently associated with poor prognosis, particularly in high-risk patients.
The cornerstones in the management of complicated IAIs are timely effective source control with appropriate antimicrobial therapy. Empiric antimicrobial therapy is important in the management of intra-abdominal infections and must be broad enough to cover all likely organisms because inappropriate initial antimicrobial therapy is associated with poor patient outcomes and the development of bacterial resistance.
The overuse of antimicrobials is widely accepted as a major driver of some emerging infections (such as
C. difficile
), the selection of resistant pathogens in individual patients, and for the continued development of antimicrobial resistance globally. The growing emergence of multi-drug resistant organisms and the limited development of new agents available to counteract them have caused an impending crisis with alarming implications, especially with regards to Gram-negative bacteria.
An international task force from 79 different countries has joined this project by sharing a document on the rational use of antimicrobials for patients with IAIs. The project has been termed AGORA (Antimicrobials: A Global Alliance for Optimizing their Rational Use in Intra-Abdominal Infections). The authors hope that AGORA, involving many of the world's leading experts, can actively raise awareness in health workers and can improve prescribing behavior in treating IAIs.