01.12.2010 | Research | Ausgabe 1/2010 Open Access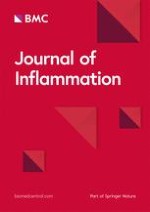 Antioxidant activity of tuberosin isolated from
Pueraria tuberose

Linn
Zeitschrift:
Autoren:

Nidhi Pandey, Yamini B Tripathi
Wichtige Hinweise
Electronic supplementary material
The online version of this article (doi:
10.​1186/​1476-9255-7-47
) contains supplementary material, which is available to authorized users.
Competing interests
The authors declare that they have no competing interests.
Authors' contributions
NP carried out the experimental works. YBT conceived of the study, and participated in its design, discussion of results, over all coordination and wrote the manuscript. All authors read and approved the final manuscript.
Background
Methods
Material
2,2'-azinobis-3-ethyl benzothiazoline-6-sulfonic acid (ABTS*), Deoxyribose, were purchased from Sigma Aldrich Co. USA. Nitrobluetetrazolium (NBT), Riboflavin, L-methionine, thiobarbituric acid, Ethylenediamine tetra acetic acid (EDTA) were purchased from Hi-Media Ltd, ferric chloride anhydrous (FeCl3) ascorbic acid, trichloro acetic acid, potassium persulfate Vitamin C were purchased from Merck Ltd. All the other reagents were of analytical grade.
Isolation and characterization of Tuberosin
The root-tubers of
Pueraria tuberose
were purchased from local market and its authenticity was rechecked on pharmacognostical parameters. Its voucher specimen was persevered in the dept. (No. YBT/MC/12/1-2007). The dried root-tuber -powder was successively extracted with hexane and then with ethanol in a soxhlet extractor. The solvent free alcoholic extract (yield-12-18% w/w) was saved for column chromatography. 8 g of this extract was separated over silica gel column (80 × 4 cm) and eluted with organic solvent with increasing polarity. The ethyl acetate fraction was subjected to re-chromatography on a smaller silica gel column (30 × 1.5 cm) by using benzene:ethyl acetate (7:3) as elution solvent. The isolated compound was re-crystallized from benzene, which furnished white crystals, m.p. 271-272°C. Its purity was confirmed by thin layer chromatography on silica gel G plate, where it showed single spot of Rf value 0.45 with solvent, Benzene: Chloroform (6:4). The spectral data of the isolated compound (UV, IR and NMR) were compared with the data of other compounds, isolated from PT extract and reported in the literature [
11
]. Based on similarity, this biologically active isolated compound was identified as 5 hydroxy 3,4,7,3',4' pentamethoxy flavone (Tuberosin).
2. Assay of antioxidant property
3. Effect on NO production
Inbred male rats of Charls foster (CF) strain of matched age and weight were purchased from the central animal house of Institute of Medical Sciences and acclimatized in our laboratory conditions for 7 days. On the experimental day, the rats were anaesthetized by injecting ketamine and 10 ml of sterile ice-cold phosphate buffer saline, devoid of calcium and magnesium ions was injected in to the peritoneal cavity to each rat, through a syringe [
26
]. The abdomen was squeezed for 5 min, and then the peritoneal fluid was aspirated out. It was centrifuged and the cell pellet was washed 2 times with serum free RPMI-1640 media to harvest the macrophages. This cell preparation was finally suspended in a known volume of complete RPMI-1640 media supplemented with 5% fetal calf serum (FCS). The isolated macrophages were counted by trypan blue exclusion method in haemocytometer and appropriately diluted to have 1 × 10
4
cells in 200 μl, which was taken in each cavity of 96 well culture plate. The plate was incubated for 2 hr at 37°C in 5% CO
2
atmosphere to attach the living macrophages [
27
,
28
] and then culture supernatant was replaced with fresh complete media. The attached macrophages were used for various experiments as described in respective tables. All tests were carried out in triplicate. In one set only drug vehicle (0.1% DMSO) was added, in another set, quercetin was added as positive control and in test wells, different concentrations of tuberosin were added. After pre-incubation for 30 min, LPS (20 ng/ml) was added to each well, mixed and incubated overnight for 17 hours to induce nitric oxide (NO) production. Next day, accumulated nitrite in the culture supernatant was monitored by using Griess reagent [
29
] (1% sulfanilamide/0.1% naphthalene diamine dihydrochloride 2.5% H
3
PO
4
). Absorbance was read at 550 nm in an ELISA plate reader (Multiscan). It is an indirect method to measure the accumulated nitrite in the culture supernatant, which reflects the concentration of released nitric oxide. The EC
50
value of isolated compound (concentration of sample required to inhibit 50% response of LPS for NO production) for each parameter were determined by statistical formula, given below in the method section.
4. Effect on iNOS expression by Western blot Analysis
After removing the culture supernatant for nitrite estimation, the attached macrophages were washed with PBS and then lysed by adding 200 μl lysis buffer (20 m
M
Tris-Buffer (pH = 7.4), containing 0.25 sucrose, EDTA (1 m
M
), PMSF (100
μ
g ml
−1
), aprotinin (10
μ
g ml
−1
), leupeptin (10
μ
g ml
−1
). The protein of this cell lysate was estimated by Bradford method [
30
] and its 20
μ
g protein was run in each lane on 8% sodium dodecyl sulphate-polyacrylamide gel electrophoresis (SDS-PAGE) [
31
]. The separated protein bands were transferred to nitrocellulose membrane by electro-blotting, washed with TBS (Tris-buffered saline) containing 0.05% (v/v) Tween 20 and blocked with 5% (wt/vol) dried non-fat milk in TBS for 2 hrs. Finally, the blot was incubated with rabbit polyclonal anti-iNOS antibody (SC650, Santa Cruz Biotechnology, 1/1000 in TBS-Tween-20 buffer) at 4°C overnight and visualized by alkaline phosphatase-conjugated anti-rabbit IgG as the secondary antibody. DAB (diamminobenzidine) was used as substrate [
32
]. The intensity of bands was analyzed by image analyzer-2254. The equal loading of sample in each lane was confirmed by monitoring the expression of ß-actin.
5. Statistics
All data were expressed as means ± SD. Pearson's correlation analysis (SPSS 7.5 for Windows, SPSS Inc.) was used to test for the significance of relationship between the concentration and percentage inhibition at a
p
< 0.05 significance level. The EC
50
of for different parameters were calculated by using the following formula
Where
,
A = Mean of × - B (predicted Y value=, 50%)
X = independent variable (Concentration of Drug)
Y = dependent variable (% inhibition)
Results
Discussion
To target this question, we explored the effect of tuberosin on iNOS protein in macrophages, when exposed to LPS. Interestingly, our data show that tuberosin significantly inhibited the iNOS protein in western blot analysis. The results suggested that tuberosin is inhibiting the expression of iNOS genes, as amount of iNOS proteins was significantly lower in tuberosin pre-treated cells in concentration dependent manner.
Conclusion
From the above experimental results, it could be suggested that tuberosin is one of the active principles of
Pueraria tuberose
for its claimed antioxidant property. The tuberosine has direct scavenging potential for variety of free radicals with preference to ABTS* radicals followed by hydroxyl radicals and then superoxide radicals. It has additional metal chelation property. Tuberosin has potential to inhibit LPS induced NO production in concentration-dependent manner, which is due to inhibition in the expression of iNOS proteins.
Acknowledgements
Authors are thankful to Banaras Hindu University, for extending the infrastructure and for fellowship of Ms Nidhi Pandey. We acknowledge the help of Prof SK Upadhyay for statistical analysis, Prof SK Trigun for western blot analysis. The financial help from an ongoing CSIR project is also acknowledged for purchase of chemicals and glass wares.
This article is published under license to BioMed Central Ltd. This is an Open Access article distributed under the terms of the Creative Commons Attribution License (
http://​creativecommons.​org/​licenses/​by/​2.​0
), which permits unrestricted use, distribution, and reproduction in any medium, provided the original work is properly cited.
Competing interests
The authors declare that they have no competing interests.
Authors' contributions
NP carried out the experimental works. YBT conceived of the study, and participated in its design, discussion of results, over all coordination and wrote the manuscript. All authors read and approved the final manuscript.