01.12.2017 | Research | Ausgabe 1/2017 Open Access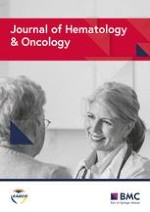 Antitumor activity of miR-34a in peritoneal mesothelioma relies on c-MET and AXL inhibition: persistent activation of ERK and AKT signaling as a possible cytoprotective mechanism
Zeitschrift:
Autoren:

Rihan El Bezawy, Michelandrea De Cesare, Marzia Pennati, Marcello Deraco, Paolo Gandellini, Valentina Zuco, Nadia Zaffaroni
Wichtige Hinweise
Electronic supplementary material
The online version of this article (doi:
10.​1186/​s13045-016-0387-6
) contains supplementary material, which is available to authorized users.
Abbreviations
DMPM
Diffuse malignant peritoneal mesothelioma
ERK1/2
Extracellular signal regulated kinase ½
MAPK
Mitogen-activated protein kinase
PI3K
Phosphoinositide 3-kinase
uPA
Urokinase-type plasminogen activator
Background
Methods
Clinical samples
Forty-five DMPM specimens classified as epitheliod (40), sarcomatoid (1), and biphasic (4) from patients treated with CRS+HIPEC at the Fondazione IRCCS Istituto Nazionale dei Tumori, Milan (INT) from October 1997 to February 2013, and 7 normal peritoneum specimens from patients who underwent surgery for non-oncologic disease were available for miR-34a expression analysis.
This study was approved by the Institutional Review Board and Ethical Committee and each patient provided written informed consent to donate to INT the leftover tissue after diagnostic and clinical procedures.
Cell lines and culture conditions
The human mycoplasma-free DMPM cell lines MesoII, STO, MP115, MP4, and MP8 were established in our laboratory [
11
–
13
]. All cells were cultured in DMEM F-12 medium (Lonza, Milano s.r.l., Treviglio, Italy) supplemented with 10% fetal bovine serum in a 37 °C humidified 5% CO
2
incubator. Cell lines were authenticated by single-tandem repeat analysis by the AmpFISTR Identifiler PCR amplification kit (Applied Biosystems, Foster City, CA, USA).
Cell transfection
Mimic pre-miR-34a precursor (miR-34a) and mimic negative control (Neg) were purchased as Pre-miR™ miRNA precursor molecules (Thermo Fisher Scientific, Monza, Italy). Knockdown of AXL and c-MET was performed using specific siRNAs (siAXL and siMET; ON-TARGET plus SMART pool) and, as a control, a siRNA with a nonsense/scrambled sequence (siNeg, ON-TARGET plus non-Targeting Pool) (Dharmacon, CO, USA) was used. Cells were transfected for 24 h with 20 pM miR-34a or Neg, or 100 nM siAXL, siMET, or siNeg, using Lipofectamine® RNAiMAX Transfection Reagent (Thermo Fisher Scientific) with Opti-MEM I (Gibco, NY, USA) according to the manufacturer's instructions.
RNA extraction, cDNA synthesis, and qRT-PCR
Quantification of miR-34a expression levels was assessed by qRT-PCR. Total RNA was isolated using the miRNeasy Mini Kit (QIAGEN, Hilden, Germany) and 1 μg of RNA was reverse transcribed by miScript II RT Kit (QIAGEN). Mature miRNA expression was assayed by miScript Primer Assays specific for miR-34a (MS00003318) and normalized on SNORD48 (MS00007511) (QIAGEN). Quantitative RT-PCR was conducted using miScript SYBR Green PCR Kit (QIAGEN). The reaction was carried out in a 96-well PCR plate at 95 °C for 15 min followed by 40 cycles of 94 °C for 15 s, 55 °C for 30 s, and 70 °C for 30 s and a dissociation step to distinguish specific from non-specific amplification products. Each sample was analyzed in triplicate.
Amplifications were run on the 7900HT Fast Real-Time PCR System (Applied Biosystem). Data were analyzed by SDS 2.2.2 software (Applied Biosystems) and reported as -ΔCt, that is the difference between the Ct of the target gene and the Ct of the housekeeping gene (where Ct is the threshold cycle), or as relative quantity (RQ) or -ΔΔCt with respect to a calibrator sample (i.e., negative control transfected cells) according to the 2 −ΔΔCt method.
Cell growth assay
To assess the effect of miR-34a restoration on cell proliferation, DMPM cells were transfected with Neg or miR-34a as described above. At different intervals from transfection, cells were trypsinized and counted in a particle counter (Beckman Coulter, Cassina de' Pecchi, Italy). Results were expressed as percent variation in the number of miR-34a-transfected cells compared with Neg-transfected cells.
Immunoblotting analyses
Cell lysates were fractionated by SDS-PAGE, transferred to nitrocellulose membranes, and probed with specific antibodies, as described in [
14
]. Cells were lysed and western blot was performed using the following primary antibodies: anti-c-MET, −CDK6, −uPA, −pospho-FAK (Tyr 576/577) (Santa Cruz Biotechnology, CA, USA); anti-AXL, −phospho-AKT (Ser473), −phospho-p44/42 MAPK (ERK1/2) (Thr202/Tyr204), −p44/42 MAPK (ERK1/2), −FAK, −cleaved CPP32 (Cell signaling, Beverly, USA); anti-AKT (BD Biosciences, San Jose, CA, USA); and anti-actin and -vinculin (Sigma Chemical Company, St. Louis, MO, USA).
Secondary antibodies used were conjugated to horseradish peroxidase (GE Healthcare, Little Chalfont, UK). Immunostained bands were detected by chemoluminescence method (ECL, GE Healthcare). In many experiments, membranes were stripped and reblotted with a second antibody. Moreover, membranes were cropped to allow simultaneous incubation of different primary antibodies on the same samples. For the preparation of figures, we cropped the original western blot to generate the appropriate figure panels with the relevant lanes. This cropped image was then subjected to uniform image enhancement of contrast and brightness. Molecular weights were determined using the Precision Plus Protein™ Standard (Bio-Rad, Segrate, Italy), which yields a colorimetric image only and has been removed from the chemoluminescent blot image.
Drugs
The AKT-1/2 inhibitor trifluoroacetate salt hydrate (A6730, Sigma Chemical Company) and the MEK inhibitor CI-1040 (PD184352, Selleck Chemicals, Houston, TX, USA) were dissolved and diluted in DMSO. Final concentration of DMSO in cell cultures never exceeded 0.5%. The antiproliferative activity was evaluated by cell counting at different times after exposure of miR34a-reconstituted MesoII cells to drug concentrations able to inhibit cell proliferation by 20% (IC 20).
Apoptosis detection and cell cycle analysis
At different time points after transfection with miRNAs mimic or siRNAs, floating and adherent cells were harvested and processed for apoptosis evaluation by TUNEL assay according to manufacturer's instructions (Roche, Mannheim, Germany) and for cell cycle [
15
]. For cell cycle, cells were fixed in 70% ethanol 96 h after transfection, stained in phosphate-buffered saline (PBS) containing 10 μg/ml propidium iodide (PI; Sigma Chemical Company), and RNase A (66 U/ml; Sigma Chemical Company) for 18 h and analyzed by FACScan flow cytometer (Becton Dickinson, Mountain View, CA, USA).
Senescence-associated β-galactosidase staining
Cells were transfected with miR-34a or Neg for 24 h. Samples were washed in PBS 72 h after transfection and processed for senescence-associated β-galactosidase (SA-β-Gal) staining. Cells were fixed for 5 min (room temperature) in 2% formaldehyde/0.2% glutaraldehyde, washed and incubated overnight at 37 °C (no CO
2
) with fresh solution as previously described [
15
]. At least 300 cells were examined, and the results were expressed as percentage of SA-β-Gal positive cells over the whole population.
Transwell invasion assay
Invasion assay was performed 72 h after transfection using a 24-well Boyden chamber with 8-mm pore size filter in the inset chambers (Costar, Corning Inc., NY, USA). The Transwell membranes were previously coated with 3.47 μg Matrigel/well (BD Biosciences) and dried for 30 min. Cells were suspended in 300 μL serum-free medium and seeded into the insert chambers. After 24 h of incubation at 37 °C in 5% CO 2, cells that migrated into the bottom chamber containing 1 ml of serum-free medium were fixed in 95% ethanol, stained with a solution of 0.4% sulforhodamine B in 0.1% acetic acid, counted under an inverted microscope, and then photographed.
Antibody arrays and ELISA
Cells were seeded at 2 × 10 4 cells/dish in complete medium and transfected with Neg or miR-34a for 24 h before serum starvation for 72 h. Conditioned media were then harvested and clarified by centrifugation at 13,000 rpm for 15 min. Cells were trypsinized, counted, and lysed for assaying protein content. Supernatant aliquots were used to assess angiogenesis-related protein content by Antibody Arrays (R&D System, SPACE Import Export, Milan, Italy) according to manufacturer's instructions. The ELISA kit for Maspin (human Maspin "Super X" ELISA Kit, Antigenix America, Huntington Station, NY, USA) was used according to the manufacturer's instructions for quantitative analysis.
In vivo experiments
All experimental protocols were approved by the Ethics Committee for Animal Experimentation of INT. Experiments were performed using 8-week-old female SCID mice (Charles River, Calco, Italy). Each group contained five to six mice. Cells were transfected with miR-34a or Neg for 24 h, as described above, and then inoculated subcutaneously or intraperitoneally after the analysis of the transfection efficiency by qRT-PCR.
Subcutaneous tumor models
STO, MesoII, and MP8 cells were injected subcutaneously into the right flank (1–1.2 × 10
7
cells/mouse). Inoculated animals were inspected daily to establish the time of tumor onset. Tumor growth was measured every 2 to 3 days using a Vernier caliper (Table
1
). The subcutaneous tumor volume was calculated as follows: TV (mm
3
) = 
d
2
 × 
D
/2 where
d
and
D
are the shortest and the longest diameter, respectively. Volume inhibition percentage (TVI%) in tumors derived from miR-34a- over Neg-transfected cells was calculated as follows: TVI% = 100 − (mean miR-34a TV/mean Neg TV × 100).
Table 1
Effect of miR-34a reconstitution on DMPM cell tumorigenicity following s.c. injection in SCID mice
Model

miRNA

Engrafted tumors/total mice a

Tumor onset b

TV (mm 3)

TVI % c (day)

STO

Neg

6/6

1

440 ± 94

miR-34a

6/6

1

188 ± 39

57 (10)

0.0003

MesoII

Neg

5/5

7

201 ± 93

miR-34a

5/5

12

9 ± 12

96 (12)

0.0035

MP8

Neg

5/5

18

72 ± 35

miR-34a

5/5

25

1 ± 2

98 (21)

0.0041
Proteins were obtained as described previously [
16
] from frozen s.c. tumors derived from two additional mice sacrified at different time points. Briefly, samples were pulverized by Mikro-Dismembrator II (B. Brown Biotech International, Melsungen, Germany) and suspended in lysis buffer supplemented with protease and phosphatase inhibitors. Proteins were processed as described [
16
].
Intraperitoneal (orthotopic) tumor models
STO and MP8 cells were injected into the peritoneal cavity (10
7
and 2.5 × 10
7
cells/mouse, respectively). Animals were monitored and weighed daily and sacrificed at different times from cell injection (Table
2
). A careful necropsy was performed to evaluate the take rate and spread of mesothelioma cells in the abdominal cavity.
Table 2
Effect of miR-34a reconstitution on DMPM cell tumorigenicity following i.p. injection in SCID mice
Model

miRNA

Day of sacrifice

Engrafted tumors/total mice a

Tumor weight (mg)

Average value

TVI (% Neg) c

STO

Neg

14

5/5

10, 80, 80, 100, 110

76

miR-34a

1/5

0.0476

0, 0, 0, 0, 10

2

97

0.0029

MP8

Neg

31

5/5

130, 310,250, 210,150

210

miR-34a

5/5

80, 90, 70, 120, 80

88

58

0.0071
Solid masses were gently detached from organs and abdominal walls, removed, and weighed for calculating the percentage of tumor weight inhibition (TWI %) in mice inoculated with miR-34a- over Neg-transfected cells.
Statistical analyses
If not otherwise specified, in vitro data are presented as mean values ± SD from at least three independent experiments. Statistical analysis of the data was performed by two-tailed Student's
t
test. For in vivo data, two-tailed Student's
t
and Fisher's exact test were used to compare tumor volumes/weights and tumor takes, respectively. Patient survival analysis was performed using Cox proportional regression model [
17
].
p
values <0.05 were considered statistically significant.
Results
Discussion
Interestingly, our evidence indicating that miR-34a ectopic expression impairs the secretion of angiogenesis-related factors by MesoII cells strongly suggests that the antitumor effect observed in both s.c. and ortothopic xenograft models can also rely on miRNA-induced modification of tumor microenvironment, making it less favorable to tumor growth.
Conclusions
DMPM is a rapidly fatal tumor with scanty therapeutic options. Here, we demonstrated for the first time that reconstitution of miR-34a in relevant models of the disease induced a significant antitumor effect, which mainly relied on c-MET and AXL down-regulation and impairment of their downstream signaling. In vivo results were complemented by in vitro data showing significant antiproliferative, proapoptotic, and anti-invasive activities. Taken together, our results provide evidence that (i) c-MET and AXL signaling pathways are critical determinants of DMPM cell survival, growth, and invasiveness and that miR-34a reconstitution can impair all these functions and (ii) persistent activation of AKT and ERK1/2 downstream signaling pathways represents a cytoprotective mechanism against miRNA-induced proapoptotic effects, though not preventing its anti-invasive activity, which instead mainly relies on FAK inhibition.
Overall, our preclinical data form a solid foundation that could promote the clinical translation of clinically available miR-34 mimic for the treatment of a still incurable disease such as DMPM and, on the other hand, provide the first evidence of a possible cytoprotective/resistance mechanism that may arise towards miRNA-based therapeutics.
Acknowledgements
Not applicable.
Funding
This work was supported by grants from the Associazione Italiana per la Ricerca sul Cancro (AIRC, IG:11669 to NZ) and Mesothelioma Applied Research Foundation (to NZ).
Availability of data and materials
All data generated or analyzed during this study are included in this published article and its supplementary information files.
Authors' contributions
NZ and VZ conceived the study. RE, MDC, MP, and VZ carried out the experiment. MD provided the tumor sample collection. RE, MDC, MP, PG, NZ, and VZ analyzed the data. All authors were involved in writing the manuscript. All authors read and approved the final manuscript.
Competing interests
The authors declare that they have no competing interests.
Consent for publication
Not applicable.
Ethics approval and consent to participate
This study was approved by the Institutional Review Board and Ethical Committee and each patient provided written informed consent to donate to INT the leftover tissue after diagnostic and clinical procedures.
Open Access
This article is distributed under the terms of the Creative Commons Attribution 4.0 International License (
http://​creativecommons.​org/​licenses/​by/​4.​0/​
), which permits unrestricted use, distribution, and reproduction in any medium, provided you give appropriate credit to the original author(s) and the source, provide a link to the Creative Commons license, and indicate if changes were made. The Creative Commons Public Domain Dedication waiver (
http://​creativecommons.​org/​publicdomain/​zero/​1.​0/​
) applies to the data made available in this article, unless otherwise stated.