01.12.2012 | Primary research | Ausgabe 1/2012 Open Access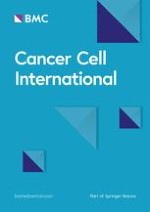 Antitumor activity of the selective cyclooxygenase-2 inhibitor, celecoxib, on breast cancer in
Vitro

and in

Vivo
Zeitschrift:
Autoren:

Zhi-Jun Dai, Xiao-Bin Ma, Hua-Feng Kang, Jie Gao, Wei-Li Min, Hai-Tao Guan, Yan Diao, Wang-Feng Lu, Xi-Jing Wang
Wichtige Hinweise
Electronic supplementary material
The online version of this article (doi:
10.​1186/​1475-2867-12-53
) contains supplementary material, which is available to authorized users.
Zhi-Jun Dai, Xiao-Bin Ma contributed equally to this work.
Competing interest
The authors declare that there are no conflicts of interest in relation to this article.
Authors' contributions
DZJ and WXJ designed the research. DZJ, MXB, GJ, MWL and DY performed the experiments throughout this research. LXX, KHF and GHT contributed to the reagents, and participated in its design and coordination. DZJ and GJ analyzed the data; DZJ and MXB wrote the paper. Co-first authors: DZJ and MXB. All authors have read and approved the final manuscript.
Abstract
Background
Cyclooxygenase-2(COX-2) promotes carcinogenesis, tumor proliferation, angiogenesis, prevention of apoptosis, and immunosuppression. Meanwhile, COX-2 over-expression has been associated with tumor behavior and prognosis in several cancers. This study investigated the antitumor effects of the selective COX-2 inhibitor, Celecoxib, on breast cancer
in vitro
and
in vivo
.
Methods
Human breast cancer MCF-7 and MDA-MB-231 cells were cultured with different concentration (10, 20, 40 μmol/L) of celecoxib after 0-96 hours
in vitro
. MTT assay was used to determine the growth inhibition of breast cancer cells in vitro. The expression of COX-2 on mRNA was measured by real-time quantitive PCR analysis. Flow cytometry was performed to analyze the cell cycle of MCF-7 cells. Levels of PGE2 were measured by ELISA method. The
in vivo
therapeutic effects of celecoxib were determined using rat breast cancer chemically induced by 7,12-dimethylben anthracene (DMBA).
Results
The inhibition of proliferation of both MCF-7 and MDA-MB-231 cells in vitro by celecoxib was observerd in time and dose dependent manner. Celecoxib effectively down-regulated the expression of COX-2. The cell cycle was arrested at G0/G1, and rate of cells in S phase was obviously decreased. Levels of PGE2 were inhibited by Celecoxib. The tumor incidence rate of the celecoxib group was lower than that of the control group. In addition, the tumor latency period of the celecoxib group was longer than that of the control group.
Conclusions
Celecoxib inhibited the proliferation of breast cancer cell lines
in vitro
, and prevented the occurrence of rat breast cancer chemically induced by DMBA. Therefore, celecoxib exhibits an antitumor activity and seems to be effective in anti-tumor therapy.