01.12.2017 | Research article | Ausgabe 1/2017 Open Access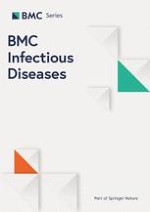 Antiviral activity of PHA767491 against human herpes simplex virus in vitro and in vivo
Zeitschrift:
Autoren:

Jue Hou, Zili Zhang, Qiang Huang, Jun Yan, Xiaohu Zhang, Xiaoliang Yu, Guihua Tan, Chunfu Zheng, Feng Xu, Sudan He
Wichtige Hinweise
Electronic supplementary material
The online version of this article (doi:
10.​1186/​s12879-017-2305-0
) contains supplementary material, which is available to authorized users.
Abstract
Background
Herpes simplex virus (HSV) is a common human pathogen that causes a variety of diseases, including oral-labial, genital lesions and life-threatening encephalitis. The antiviral nucleoside analogues such as acyclovir are currently used in anti-HSV therapies; however, clinical overuse of these drugs has led to the emergence of drug-resistant viral strains. Hence, there is an urgent need to develop new anti-HSV agents.
Methods
To identify novel anti-HSV-1 compounds, we screened the LOPAC small scale library of 1280 bioactive compounds to identify inhibitors of HSV-1-induced necroptosis. Further experiments including western blot analysis, Q-PCR analysis and immunohistochemistry were performed to explore the antiviral mechanism of the compounds.
Results
Here, we identified PHA767491 as a new inhibitor of HSV. PHA767491 potently blocked the proliferation of HSV in cells, as well as HSV induced cell death. Further, we found that PHA767491 strongly inhibited HSV infection post viral entry. Moreover, PHA767491 reduced the expression of viral genes required for DNA synthesis including UL30/42 DNA polymerase and UL5/8/52 helicase-primase complex. The essential immediate early (IE) genes such as
ICP4
and
ICP27
are critical for the expression of the early and late genes. Of note, PHA767491 inhibited the expression of all IE genes of both HSV-1 and HSV-2. Importantly, PHA767491 reduced viral titers in the tissues from the mice infected with HSV-1. Consistently, immunohistochemistry analysis showed that PHA767491 dramatically attenuated expression of viral protein gB in the livers.
Conclusions
Taken together, PHA767491 has potent anti-HSV activity by inhibiting viral replication both in vitro and in mouse model. Thus, PHA767491 could be a promising agent for the development of new anti-HSV therapy.