01.12.2017 | Research article | Ausgabe 1/2017 Open Access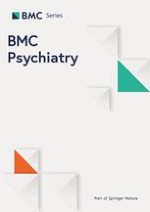 Anxiety and depression among patients with chronic obstructive pulmonary disease and general population in rural Nepal
Zeitschrift:
Autoren:

Niresh Thapa, Muna Maharjan, Tirtha Man Shrestha, Srijana Gauchan, Prakash Pun, Yam Bahadur Thapa
Abbreviations
BDI
Beck Depression Inventory
COPD
Chronic obstructive pulmonary disease
GOLD
Global Initiative for Chronic Obstructive Pulmonary Disease
Background
Few studies were found worldwide on COPD associated with psychiatric co-morbidities and far less in Nepal. Depression and anxiety have been found to negatively affect COPD treatment, including pulmonary rehabilitation. This study compared the levels and characteristics of anxiety and depression in patients with COPD and the general population in rural Nepal.
Methods
An observational comparative analytical cohort study was conducted in the United Mission Hospital, Tansen and Okhaldhunga Community Hospital, Okhaldhunga, from June 1st 2015 to April 15th 2016. A total of 198 respondents, study group (
N
 = 93) and comparison group (
N
 = 105), who gave consent were included in the study. The inclusion criteria of respondents for study group were patients age above 40 years, with post bronchodilator, ratio of forced expiratory volume in 1 s and forced vital capacity (FEV1/FVC) <70% and Beta2-agonist reversibility <15% (GOLD criteria for the diagnosis of COPD) [
1
], history of smoking, admitted COPD patients and for comparison group patient visitor visiting in United Mission Hospital, Palpa and Okhaldhunga Community Hospital, Okhaldhunga. The exclusion criteria included unwilling to participate in the study, patient having other co-morbidities which included known psychiatric disorders patient, and other significant respiratory or inflammatory disease: asthma, pulmonary tuberculosis, congestive cardiac failure, interstitial lung disease and taking medicines like Beta- blockers and antipsychotics.
Data collection
Permission was taken from The General Practice and Emergency Medicine departments, Institute of Medicine and respective institutions prior to the data collection. The participants were recruited from patients admitted with COPD (study group) and apparently healthy people basically patients' visitors (comparison group) in the United Mission Hospital (105 respondents; COPD/Comparison- 46/59) and Okhaldhunga Community Hospital (93 respondents; COPD/Comparison- 47/46). Those clients willing to give consent were included in the study and the surveys were administered at that time. For those clients who could not read or write, questions were asked verbally and filled by the trained person or researcher.
Measurements
The Beck Anxiety Inventory (BAI) and the Beck Depression Inventory (BDI) questionnaire were used to assess the anxiety and depression level of respondents. The BAI was used to measure the severity of anxiety consisting of 21 multiple-choice questions. Each question has graded from 0 to 3 with a score of 3 indicating the greatest severity. BAI has score ranging from 0 to 63. The total score of 0-7 indicates minimal anxiety, 8-15 mild anxiety, 16-25 moderate anxiety, and 26-63 severe anxiety. The BDI also consists of 21 multiple-choices questions graded from 0 to 3, with a score of 3 indicating the greatest severity of depression. BDI has a scores ranging from 0 to 63. The total score of 0-13 represents healthy, 14-19 minimal level of depression, 20-28 mild depression, and 29-63 severe depression [
12
–
14
].
Statistical analysis
The data were entered, coded and analyzed by using the Statistical Package for Social Sciences (SPSS) version 16. Baseline demographics and clinical characteristics were compared among the groups using cross tabulation and chi square tests.
P
 < 0.05 was regarded as statistical significance.
Results
Discussion
Rates of anxiety and depression are high in COPD patients as it is a chronic condition, which needs regular follow up and treatment. In addition to the increased risk of COPD due to tobacco smoking, people living in remote areas use firewood to cook food and their homes are not well ventilated which causes indoor air pollution and increased risk for development of COPD and recurrent exacerbation. These recurrent attacks leads to increased number of readmission in hospital. Due to the effects of COPD on overall health, most patients are unable to work, may be a huge burden for family members, and may be abandoned.
COPD with anxiety and depression affects family and society as well as the individual patient. Thus it should be addressed accordingly. Medical as well as psychological management is important in the treatment of COPD, counseling to the patient and family about the smoking cessation, proper clothing, immunization, regular follow up and use of medicine.
Conclusion
In this study, the BAI and BDI scores for anxiety and depression were significantly higher in patients with COPD compared to a sample from the general population. Assessment and management of anxiety and depression are important as these common co-morbidities can negatively impact treatment compliance, make it difficult to control COPD, and lead to increased morbidity and mortality. Future studies should focus on evaluating the effectiveness of multi-modal approaches to management of anxiety and depression in COPD. Examples include the effectiveness of different types of pharmacologic treatment, cognitive behavior therapy and the collaborative-care model for pulmonary rehabilitation.
Acknowledgements
The authors would like to acknowledge all the respondents for their participation and cooperation, the hospital administration and staffs of United Mission Hospital and Okhaldhunga Community Hospital for their great support. The authors greatly acknowledge the help of Deborah Lindell DNP, MSN, RN, CNE, ANEF, Associate Professor of Nursing, Frances Payne Bolton School of Nursing, Case Western Reserve University and Carma Erickson-Hurt DNP, ACHPN in the final language editing of this paper.
Authors' contribution
NT designed the study. NT, PP and YBT participated in data collection. TS and SG participated in the design of the study and helped to draft the manuscript. NT and MM analyzed the data and wrote up the manuscript. All the authors read and approved the final manuscript.
Funding
The study has not got any kind of funding.
Availability of data and materials
The data sets used and analyzed during the current study are available from the corresponding author on reasonable request.
Ethics approval and consent to participate
Ethical clearance and permission was taken from ethical review board of the General Practice and Emergency Medicine department, Institute of Medicine and United Mission Hospital, Palpa and Okhaldhunga Community Hospital, Okhaldhunga prior to the data collection. Written informed consent was obtained from the respondents before data collection.
Consent for publication
Not applicable.
Competing interests
The authors declare that they have no competing interests.
Publisher's Note
Springer Nature remains neutral with regard to jurisdictional claims in published maps and institutional affiliations.
Open Access
This article is distributed under the terms of the Creative Commons Attribution 4.0 International License (
http://​creativecommons.​org/​licenses/​by/​4.​0/​
), which permits unrestricted use, distribution, and reproduction in any medium, provided you give appropriate credit to the original author(s) and the source, provide a link to the Creative Commons license, and indicate if changes were made. The Creative Commons Public Domain Dedication waiver (
http://​creativecommons.​org/​publicdomain/​zero/​1.​0/​
) applies to the data made available in this article, unless otherwise stated.