01.12.2018 | Research | Ausgabe 1/2018 Open Access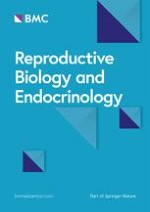 Apa-I polymorphism in
VDR

gene is related to metabolic syndrome in polycystic ovary syndrome: a cross-sectional study
Zeitschrift:
Autoren:

Betânia Rodrigues Santos, Sheila Bunecker Lecke, Poli Mara Spritzer
Abstract
Background
Polycystic ovary syndrome (PCOS) is a common endocrine disorder determined by polygenic traits as well as environmental factors. Lower vitamin D levels have been detected in PCOS women and related to hormone and metabolic disturbances. Vitamin D acts in tissues through the vitamin D receptor (VDR).
VDR
gene variants have been associated with worse metabolic profile in the general population. We investigated the genotype and haplotype distribution of the Bsm-I (rs1544410), Apa-I (rs7975232), and Taq-I (rs731236)
VDR
gene polymorphisms in PCOS and non-hirsute women from southern Brazil. We further investigated the associations of these gene variants and their haplotypes with PCOS, vitamin D levels, and metabolic abnormalities, including the metabolic syndrome (MetS).
Methods
A group of 191 women with PCOS (Rotterdam criteria) and 100 non-hirsute controls with regular ovulatory cycles were genotyped for all polymorphisms by real-time PCR, with allelic discrimination assays. MetS and the cutoffs for its isolated components were defined in accordance with the Joint Scientific Statement.
Results
Women with PCOS were younger and had significantly higher BMI and total testosterone levels than controls (
p
< 0.05). The frequency of MetS in PCOS and controls was 26.5% and 4.8% respectively. The CC genotype of Apa-I entailed higher risk of MetS in PCOS (OR: 2.133; 95% CI 1.020–4.464,
p
= 0.042), and was associated with higher systolic blood pressure (
p
= 0.009), total cholesterol (
p
= 0.040), and LDL-cholesterol (
p
= 0.038) in both PCOS and control groups (two-way ANOVA). The frequencies of
VDR
haplotypes were similar in PCOS and control women.
Conclusions
The present results suggest that the Apa-I variant in
VDR
gene may be associated with MetS in southern Brazilian women with PCOS, and with blood pressure, total cholesterol, and LDL-c in women with and without PCOS.