24.01.2018 | Original Article | Ausgabe 4/2018 Open Access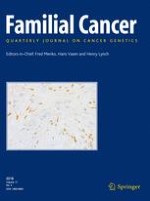 APC

mosaicism in a young woman with desmoid type fibromatosis and familial adenomatous polyposis
Zeitschrift:
Autoren:

Astrid Tenden Stormorken, Thomas Berg, Ole-Jacob Norum, Toto Hølmebakk, Kristin Aaberg, Sonja E. Steigen, Eli Marie Grindedal
Abstract
Familial adenomatous polyposis (FAP) is usually caused by germline mutations in the adenomatous polyposis coli (
APC
) gene. The classic form is characterized by hundreds to thousands of adenomas in the colorectum and early onset colorectal cancer (CRC) if left untreated. FAP is also associated with multiple extra-colonic manifestations such as gastroduodenal polyps, osteomas, epidermoid cysts, fibromas and desmoids. Most desmoid tumours in FAP patients occur intra-abdominally. Approximately 15–20% of the
APC
mutations are de novo mutations. Somatic mosaicism has been reported in some sporadic cases of polyposis but is probably an underestimated cause of the disease. This case report presents the detection of a mosaic
APC
mutation in a 26-year-old woman who as a child had been diagnosed with desmoid type fibromatosis. FAP was suggested when she presented with extensive extra abdominal fibromatosis. Our findings indicate that
APC
mutations may be suspected in patients presenting with a desmoid regardless of its location. If there is clinical evidence that the patient has FAP, adenomas and colonic mucosa in addition to leukocyte DNA should be included in the screening, preferably using methods that are more sensitive than Sanger sequencing.