05.08.2021 | Apoplex | Leitthema | Ausgabe 11/2021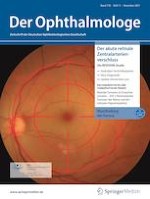 Update intravenöse Lysetherapie
Die REVISION-Studie
Zeitschrift:
Autoren:

Prof. Dr. Maximilian Schultheiss, Martin S. Spitzer, Lars-Olof Hattenbach, Sven Poli
Wichtige Hinweise
×
QR-Code scannen & Beitrag online lesen
Zusammenfassung
Hintergrund
Bis heute existiert keine evidenzbasierte Therapie des akuten, retinalen nichtarteriitischen Zentralarterienverschlusses (ZAV). In Anbetracht der begrenzten retinalen Ischämietoleranz und der aktuellen Studienlage werden zunehmende Erwartungen in die frühe intravenöse Thrombolyse innerhalb 4,5 h nach Symptombeginn gesetzt.
Ziel
Da die rechtzeitige Reperfusion derzeit die einzige möglicherweise wirksame Therapie des Zentralarterienverschlusses darstellt, wird das aktuelle Wissen in Bezug auf die Effektivität und die Sicherheit der intravenösen Thrombolyse bei ZAV vermittelt. Auf der Basis dieser Daten startet in Kürze die deutschlandweite, prospektive, randomisierte, doppelblinde, placebokontrollierte Studie REVISION (Early REperfusion Therapy with Intravenous Alteplase for Recovery of VISION in Acute Central Retinal Artery Occlusion), welche die frühe intravenöse Thrombolyse als Therapie für den akuten nichtarteriitischen ZAV untersuchen wird. Die Vorstellung der Haupteinschlusskriterien soll es jedem Ophthalmologen ermöglichen, geeignete Patienten zu identifizieren und – sofern in räumlicher Nähe – an ein REVISION-Studienzentrum zu überweisen.
Schlussfolgerungen
Die Effektivität der Lysetherapie ist beim akuten ischämischen Schlaganfall zeitabhängig. Anzunehmen ist dies auch beim ZAV, allerdings ist der Beweis für die Wirksamkeit der Thrombolyse hier noch zu erbringen. Bis dahin sollte der Leitsatz "Time is Retina" gelten und die Thrombolyse idealerweise im Rahmen einer randomisierten Studie (wie REVISION) erfolgen. Andere Therapieansätze, wie z. B. eine Parazentese, sind nach der aktuellen Studienlage nicht indiziert.