01.09.2017 | Original Article | Ausgabe 1/2018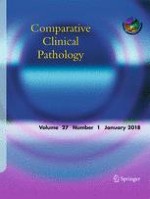 Apoptosis induced by

Moringa oleifera

Lam. pod in mouse colon carcinoma model
Zeitschrift:
Autoren:

Suchada Kraiphet, Chaniphun Butryee, Anudep Rungsipipat, Sirintip Budda, Kasem Rattanapinyopitak, Siriporn Tuntipopipat
Abstract
The aim of this study was to investigate the effect of boiled
Moringa oleifera
Lam. pod (bMO) in colon carcinogenesis via apoptotic pathway. Four groups of mice (eight mice/group) were induced by azoxymethane (AOM, 10 mg/kg BW i.p. at the third week) followed by dextran sodium sulfate (DSS) for 7 days (2% in drinking water at the fourth week), while one negative group (
n
= 8) received AIN-76A basal diet without AOM/DSS induction. Positive control group received basal diet with AOM/DSS induction, whereas treatment groups received basal diet containing 1.5%, 3.0%, and 6.0% of bMO at the 5th week till 20th week after AOM/DSS inductions. Mice were sacrificed and necropsied at the end of the 20th week. The results showed tumor incidence 87.5% and multiplicity 9.5 in positive control group. Subsequently, mice that received 1.5%–6.0% bMO exhibited tumor incidences and multiplicities at 25%–75% and 1.8–8.3, respectively. Pro-apoptosis protein BAX investigated by immunohistochemistry in mice treated with 3.0% bMO was significantly higher than positive control. Anti-apoptosis protein BCL-2 showed the lowest expression in mice fed with 6.0% bMO. The BAX/BCL-2 ratio proteins and the nuclear staining were found at the highest rate in mice received 3.0% bMO. This finding suggested that the bMO exhibited potent apoptosis induction through dissimilarity of BCL-2 family protein expression, thereby decreased BCL-2 protein expression and increased the BAX protein to promote cell death. Therefore, bMO has a potential as chemotherapeutic agent in colon cancer through induction of apoptosis.