01.12.2018 | Research article | Ausgabe 1/2018 Open Access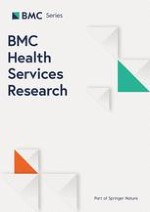 Application of discrete event simulation in health care: a systematic review
Zeitschrift:
Autor:

Xiange Zhang
Abstract
Background
The objective was to explore the current advances and extent of DES (Discrete Event Simulation) applied to assisting with health decision making, as well as to categorize the wide spectrum of health-related topics where DES was applied.
Methods
A systematic review was conducted of the literature published over the last two decades. Original research articles were included and reviewed if they concentrated on the topic of DES technique applied to health care management with model frameworks explicitly demonstrated. No restriction regarding the settings of DES application was applied.
Results
A total of 211 papers met the predefined inclusion criteria. The number of publications included increased significantly especially after 2010.101 papers (48%) stated explicitly disease areas targeted, the most frequently modeled of which are related to circulatory system, nervous system and Neoplasm. The DES applications were distributed unevenly into 4 major classes: health and care systems operation (HCSO) (65%), disease progression modeling (DPM) (28%), screening modeling (SM) (5%) and health behavior modeling (HBM) (2%). More than 68% of HCSO by DES were focused on specific problems in individual units. However, more attempts at modeling highly integrated health service systems as well as some new trends were identified.
Conclusions
DES technique has been an effective tool to approach a wide variety of health care issues. Among all DES applications in health care, health system operations research occupied the most considerable proportion and increased most significantly. Health Economic Evaluation (HEE) was the second most common topic for DES in health care, but with stable rather than increasing numbers of publications.