01.11.2017 | Original Article | Ausgabe 1/2018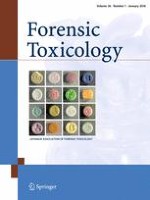 Application of high-performance liquid chromatography with charged aerosol detection (LC–CAD) for unified quantification of synthetic cannabinoids in herbal blends and comparison with quantitative NMR results
Zeitschrift:
Autoren:

Magdalena Popławska, Agata Błażewicz, Kamil Kamiński, Elżbieta Bednarek, Zbigniew Fijałek, Lech Kozerski
Abstract
Purpose
The analysis of products which contain synthetic cannabinoids (SCs) is very challenging due to their diversity and rapidly changing SC structures, variable herbal matrices and, above all, inaccessibility of reference standards. Therefore, the aim of this study was to develop a method which allows quantification of SCs' contents in herbal blends without their reference standards.
Methods
Identification of SCs was performed using liquid chromatography
–
high-resolution tandem mass spectrometry with a quadrupole time-of-flight analyser (LC
–
QTOF-MS/MS). A liquid chromatography–charged aerosol detection (LC
–
CAD) method with unified calibration for the quantification of SCs was developed and validated. Two available reference standards were used as universal standards. Quantitative analysis using a nuclear magnetic resonance spectroscopy method was also performed to externally validate the developed LC
–
CAD method.
Results
All peaks of SCs observed in LC
–
CAD chromatograms were identified by LC
–
QTOF-MS/MS. Validation data and results from a CAD response evaluation indicated that the elaborated quantitative method was sufficiently accurate for the determination of SCs belonging to various chemical families. The LC
–
CAD method turned out to be very flexible, because it was successfully applied for the analysis of 19 herbal products.
Conclusions
In this study, methods which enable identification and quantification of currently known SCs as well as novel unknown derivatives without their reference standards were developed. These methods can be applied to the control of suspect SC products and may support the risk assessment of SC presence on the market. To our knowledge, this is the first trial to use LC–CAD for unified quantification of SCs without their reference standards.