01.12.2012 | Research | Ausgabe 1/2012 Open Access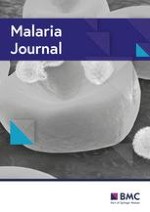 Application of loop-mediated isothermal amplification for malaria diagnosis during a follow-up study in São Tomé
Zeitschrift:
Autoren:

Pei-Wen Lee, Dar-Der Ji, Chia-Tai Liu, Herodes S Rampao, Virgilio E do Rosario, I-Feng Lin, Men-Fang Shaio
Wichtige Hinweise
Competing interests
The authors declare that they have no competing interests.
Authors' contributions
PWL carried out the nested PCR and conducted data analysis; DDJ assisted with the design of the study, supervised LAMP laboratory work; CTL oversaw fieldwork and collected the field data. HSR contributed to the study coordination and organized field work. VEdR helped in the study design and critically reviewed the manuscript. IFL took full responsibility for the integrity of the data and accuracy of the data and its analysis. MFS led the conceptual design, study coordination, supervision, data interpretation and drafted the manuscript. All authors read and approved the final manuscript.
Abstract
Background
A reliable and simple test for the detection of malaria parasite is crucial in providing effective treatment and therapeutic follow-up, especially in malaria elimination programmes. A comparison of four methods, including nested polymerase chain reaction (PCR) and loop-mediated isothermal amplification (LAMP) were used for the malaria diagnosis and treatment follow-up in São Tomé and Príncipe, during a successful pre-elimination campaign.
Method
During the period September to November 2009, blood samples from 128 children (five to 14 years old) with temperature ≥38°C (tympanic) in the District of Agua Grande were examined using four different methods, i.e., histidine-rich protein 2 (HRP-2) based rapid diagnostic tests (HRP-2-RDTs), optical microscopy, nested PCR, and LAMP. First-line treatment with artesunate-amodiaquine was given for uncomplicated malaria and intravenous quinine was given for complicated malaria. Children with persistent positivity for malaria by microscopy, or either by nested PCR, or by LAMP on day 7 were given second-line treatment with artemether-lumefantrine. Treatment follow-up was made weekly, for up to four weeks.
Results
On day 0, positive results for HRP-2-RDTs, microscopy, nested PCR, and LAMP, were 68(53%), 47(37%), 64(50%), and 65(51%), respectively. When nested PCR was used as a reference standard, only LAMP was comparable; both HRP-2-RDTs and microscopy had moderate sensitivity; HRP-2-RDTs had poor positive predictive value (PPV) and a moderate negative predictive value (NPV) for the treatment follow-up. Seventy-one children with uncomplicated malaria and eight children with complicated falciparum malaria were diagnosed based on at least one positive result from the four tests as well as clinical criteria. Twelve of the 79 children receiving first-line treatment had positive results by nested PCR on day 7 (nested PCR-corrected day 7 cure rate was 85%). After the second-line treatment, nested PCR/LAMP-corrected day 28 cure rate was 83% for these 12 children.
Conclusions
HRP-2-RDTs have similar sensitivity as microscopy but less specificity. However, as compared to nested PCR, the poor sensitivity of HRP-2-RDTs indicates that low parasitaemia may not be detected after treatment, as well as the low specificity of HRP-2-RDTs indicates it cannot be applied for treatment follow-up. LAMP has similar sensitivity and specificity to nested PCR. With high PPV and NPV, LAMP is simpler and faster as compared to nested PCR with the advantage of detecting low parasitaemia becoming a potential point-of-care test for treatment follow-up.